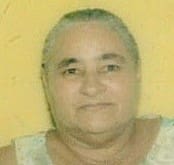 Anita Coto, also known as "Ana," of D. Hamilton Jackson died on June 15. She was 63 years old.
She is survived by her parents: Lucia Gonzalez and Jabo Coto Sr.; sons: Wilfredo Coto, Luis Neftalie DeLeon and José Coto; brothers: Jobo Coto Jr., Antonio Coto, José Coto and Pedro Coto; nieces: Maricela Davis-Coto, Luz Maria Coto, Sandra E. Coto and Maribel Ayala-Coto; nephews: Ernesto Davis Jr., Gilberto Coto, Miguel Coto, and José "Cheo" Coto; great nieces: Migdalia L. Melendez, Wilmarys Melendez and Shanaya Gumbs; aunts: Sara Coto and Teresa Coto; and brother-in-law, Ernesto Davis Sr.
She is also survived by sisters-in-law: Graciela Coto and Margarita Carrasquillo; cousins and other relatives: Fransico Rivera Jr., Gonzalo Rivera, Samuel Rivera, Andres Rivera, Prisila Rivera-Diaz, Gabriela Rivera-Garcia, Esmeralda Rivera, Andrea Rivera-Coto, Nereida Nieves-Coto, Mauricio Coto, José M. Coto, Victor A. Coto, Maria Saldaña-Coto, Andreita Coto-Vega, Isabela Coto-Albino, Olga Coto-Ramirez, Nancy Figueroa, Ofelia and Lucy; and friends: Rual Thovvens and Orlando Benitez.
There will be a viewing at 10 a.m. followed by a funeral service at 11 a.m. on Thursday, June 28, at James Memorial Funeral Home Chapel. Interment will be at Kingshill Cemetery.