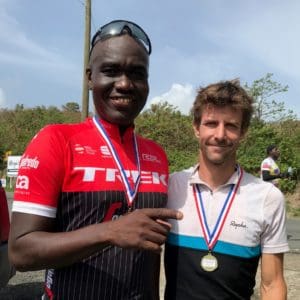 With wet roads and an overcast sky, a small group of cyclists gathered at the former Café Kaleidoscope on St. Croix's South Shore Road for the second running of the Triple Bypass Road Race. Compared to the May 20th version (Sunday, June 24) finish times were slower this morning because most cyclists rode with caution on the slick surface, according to a press release from the Virgin Islands Cycling Federation (VICF).
After taking off a few months from serious riding, Stephen Swanton was awarded a gold medal for overtaking second place finisher Dominic Pugliese on the final lap of the 36-mile race. Swanton's finish time was 2:04:36. David Parris rode in steadily for third place, followed closely by Glenn Massiah, who rolled a few miles with a flat rear tire. Jerry Remie rounded out the Elite field in fifth place.
The Expert field rode together for the first lap of their 24-mile race. Morgan Theophane bridged a gap from Scott Fricks on the second lap and finished first in 1:28:09. Fricks crossed the line in 1:28:18; Alvin Thomas was third.
Sport riders Paul Gumbs and Laverne Fredericksen worked together on their 12-mile course. Paul out sprinted Laverne and crossed two seconds ahead of her in a time of 51:18. Valentino Gario was third in 58:42; Judy Gario was fourth.
The next race on the schedule is the South Shore Time Trial at 7 a.m., Sunday, July 1. On-site registration will be open from 6:15 a.m. to 6:45 a.m. The race will go from Ha' Penny to Divi and back for a total of 18 miles. All categories will race the same distance.
For more information, call 332-6282.
Sunday, June 24, 2018 – Virgin Islands Cycling Federation/Triple Bypass Road Race No. 2 on Sunday, June 24 Conditions: overcast, wet, windy
Elite 36.0 miles — TOTAL TIME – 1/ 2/ 3
1 Stephen Swanton 2:04:36 0:40:08/ 0:41:59/ 0:42:29
2 Dominic Pugliese 2:06:47 0:40:08/ 0:40:50/ 0:45:49
3 David Parris 2:08:18 0:40:08/ 0:42:36/ 0:45:34
4 Glenn Massiah 2:08:22 0:40:08/ 0:42:36/ 0:45:38
5 Jerry Remy 2:19:14 0:45:03/ 0:44:16/ 0:49:55
Joey Swanson DNF
Expert 24.0 miles TOTAL TIME 1/ 2
1 Morgan Theophane 1:28:09 0:44:06/ 0:44:03
2 Scott Fricks 1:28:18 0:44:04/ 0:44:14
3 Alvin Thomas 1:38:59 0:44:10/ 0:54:49
Sport 12.0 miles TOTAL TIME 1
1 Paul Gumbs 0:51:18 0:51:18
2 Laverne Fredericksen 0:51:20 0:51:20
3 Valentino Gario 0:58:42 0:58:42
4 Judy Gario 1:02:51 1:02:51