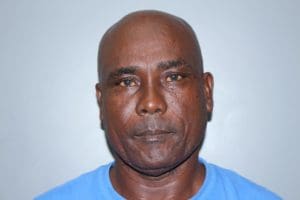 Norman Bryan, 55, was arrested Monday afternoon and charged with simple assault/domestic violence, the V.I. Police Department reported.
According to police, on May 12 the VIPD's Domestic Violence Unit was notified of an incident that had taken place the previous week, on May 6, in which a woman reported she had been assaulted by a male acquaintance.
She told police that after she had refused to talk to him he assaulted her, hitting her with his closed fists all about her body, causing injuries.
Shortly after noon Monday, police contacted 55-year-old Norman Bryan. He was advised of his rights and placed under arrest, charged with simple assault/domestic violence,
Bryan was booked, processed and turned over to the Bureau of Corrections pending his advice of rights hearing. No bail was set as per the territory's domestic violence law.