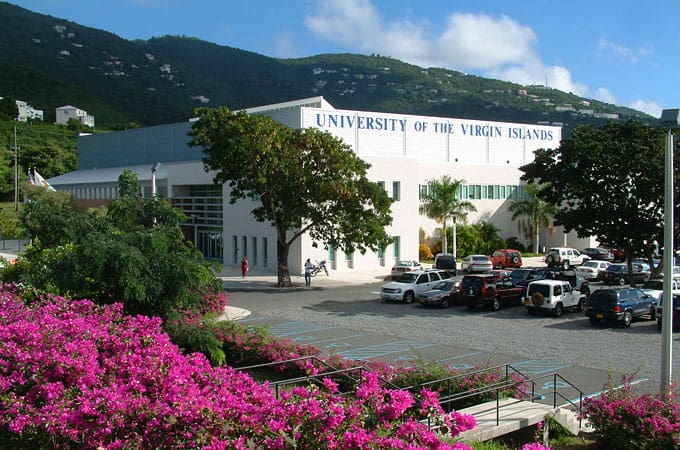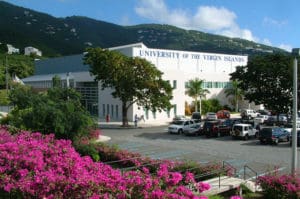 Pesticide Applicator Recertification Training for "Renewal of Certified Commercial and Private Applicator License" to be held on June 11 and 12 on the St. Thomas Campus All certified applicators, especially those interested in having their applicator license renewed before expiration are encouraged to attend a pesticide recertification workshop.
Federal law requires any person who applies or supervises the use of restricted use pesticides (RUPs) to be recertified before a license expires by attending a refresher training or taking an exam to remind applicators of Environmental Protection Agency (EPA) laws and regulations, applying RUPs properly and effectively, comprehending labels and practicing safe pesticide use.
Registration is requested for training and the use of a calculator is a requirement.
Training will be held on the UVI St. Thomas Campus in the UVICELL Training Room located near the old faculty east dorm from 9 a.m. to 4 p.m. The topics discussed will be: Structural Pests and 12 Ornamental and Turf Pests.
For additional information or to register, contact the Cooperative Extension Service Pest Management Specialist, Amy J. Dreves, Ph.D., at 692-4052 or email Amy.Dreves@uvi.edu
UVI Announces Winners for 2018 Research Day The University of the Virgin Islands announces the students and faculty winners of the 7th Annual Research Day held in Spring 2018.
Of the 32 undergraduate student entries on the St. Thomas Campus, Shantae Lewis from the College of Science and Mathematics emerged as the winner on the St. Thomas Campus.
Lewis' poster was titled "DNA Extraction of Halophila Stipulacea Plants for Genetic Variability Around the Virgin Islands." Halophila stipulacea is an invasive species of sea grass that is quickly spreading throughout the territory's waters. It originates from the western Indian Ocean and is thought to have spread into the Mediterranean and Caribbean Seas in ship ballasts and by fragmentation caused by anchoring and other bottom disturbances. In her abstract, Lewis mentioned that the goal of the project is to determine the genetic variability of Halophila Stipulacea and to use that information to help create an invasion history model. She conducted her research using samples from Magens Bay, John Brewers Bay and Lindbergh Bay on St. Thomas. UVI's Prof. Alice Stanford, Ph.D., advised Lewis during her research.
On the Albert A. Sheen Campus on St. Croix, there were nine entries. Tione Grant from the College of Science and Mathematics walked away as this year's undergraduate winner.
More information is available in a news release on the Media Section of the UVI website – http://www.uvi.edu/
UVI Board of Trustees Elects Officers; Approves New BS Degree in Maritime Management; RFP for Two Off-Grid Power Producing Facilities & FY 2017-2018 Operating Budget Revision In the regular session of its quarterly meeting on June 2, on the Albert A. Sheen Campus on St. Croix and the Administration and Conference Center Building on the St. Thomas Campus, the University of the Virgin Islands Board of Trustees re-elected Henry Smock to serve as chairman and Alexander Moorhead as vice chairman.
Board Chairman Smock welcomed new Board of Trustee Member John Quelch, Ph.D., who currently serves as dean of the School of Business Administration and University vice provost of Executive Education at the University of Miami. Quelch is replacing former board of trustees' member Carol Fulp. "His resume is quite extensive and impressive both in regard to academia as well as business," said Smock of Trustee Quelch. "Thank you for agreeing to serve and for your participation on this board." Smock also welcomed incoming Board of Trustee faculty member Dara Hamilton, Ph.D.
At Saturday's meeting, the board unanimously approved a Bachelor of Science degree program in maritime management. This degree program is designed to provide expanded career opportunities in the maritime industry that would require expertise in business and will allow students to supplement their technical expertise with business acumen needed to participate in or lead a successful business in the maritime industry. It is a "partnering program" designed to collaborate with existing maritime academies or institutes, which often only have two-year programs. Trustee Yvonne Thraen thanked all involved for their creativity and commitment for expanding UVI's offerings.
The board also unanimously approved a change in the minimum number of total credits required for a Bachelor of Business Administration (BBA) degree from 123 to 120 credit hours. The BBA degree, like other baccalaureate degrees on a semester basis, should require, at a minimum, 120 credit hours to be competitive with degrees offered at other universities. While most of the School of Business majors within the Bachelor of Business Administration may require more than 120 credit hours, the standard should be set at the recognized minimum number of credit hours to accommodate new majors and changes within existing majors.
More information is available in a news release on the Media Section of the UVI website – http://www.uvi.edu/
New Student Orientation for Summer 2018 Set for July 11-12 The University of the Virgin Islands will hold Summer Orientation from Wednesday, July 11 to Thursday, July 12, for new students enrolling on both campuses. All newly accepted students are required to participate in orientation activities prior to the start of the semester for academic advising and development of their class schedules. Orientation also includes sessions to introduce new students to UVI, networking with other students and instructors, campus tours, an official welcome from UVI President David Hall and a National Student Exchange meeting.
New student advisement and registration are scheduled for Wednesday, July 11, on the Albert A. Sheen Campus on St. Croix and Thursday, July 12, on the St. Thomas Campus.
"We look forward to welcoming our Buccaneers who have chosen to get a jump start on their academic pursuits," said Hedda Finch-Simpson, dean of Students on the Sheen Campus. "As a part of the UVI family, students will be provided with a "uniquely Caribbean" learning experience. Orientation is intended to acquaint students to life on campus to ensure their rapid success socially and academically."
"The university is excited to welcome new students to our campuses for Spring 2018," said Verna Rivers, dean of students on the St. Thomas Campus. "Planned activities will get them ready to be successful academically. Campus tours will inform them of computer lab access, including needed resources like our 24/7 computer labs and our Center for Student Success."
More information is available in a news release on the Media Section of the UVI website – http://www.uvi.edu/
Students, Employees Urged to Sign Up for UVI's Rave Emergency Notification System All UVI students and employees are urged to sign up for UVI's Rave emergency notification system which is used to share critical information via text messages and e-mail. Participants simply add their cell phone numbers and e-mail addresses to the "Personal Information" page in UVI's BanWeb accounts. Those who have already added information to the system are encouraged to periodically check their details in case updates are needed. UVI will periodically issue Rave system test announcements.
UVI Class of 2018: Defying & Overcoming the Winds of the Storms The University of the Virgin Islands celebrated many firsts in this year's commencement ceremonies held on the St. Thomas Campus and the Albert A. Sheen Campus on May 17, and May 18, respectively.
For the first time in UVI's history, there were graduates from UVI's extension campus on St. Maarten, five students graduated with Masters of Arts in Education degrees, two students graduated with doctoral degrees and 17 students graduated with Masters of Marine and Environmental Studies Degrees. Likewise, 36 students graduated with Bachelor of Science in Nursing Degrees, 12 of which graduated on the Albert A Sheen Campus as the first cohort of nurses to do so in the university's history.
Danny Glover, acclaimed film actor, director, producer, activist and humanitarian, delivered the keynote address at both ceremonies. Glover, who was later awarded an Honorary Doctorate of Humane Letters, told the Class of 2018 that they have all been a source of inspiration to him.
"No adversity can break you; no storm can wash you away; the work you do in the world should always elevate our species," Glover said. "Never forget the courage and fortitude it took for you to succeed."
Che-Raina Warner, class speaker on the St. Thomas Campus, in her speech beckoned the graduating class to follow their dreams.
"Today's graduation is all the proof you need that if you apply yourself and you strive bravely towards your aspirations, you can achieve it," said Warner. "So, I say let the strength of your desire give force and momentum to your every step."
Read more about UVI's Class of 2018: Defying & Overcoming the Winds of the Storms by visiting the UVI Blog.