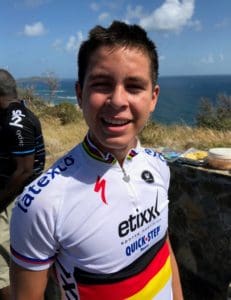 The Virgin Islands Cycling Federation (VICF) held the Ride to The Rings Road Race on Sunday in celebration of Olympic Month. With a new mountain-top finish, this annual event proved to be as challenging as an Olympic race.
All cyclists started in front of Castaways on St. Croix's Northside Road. All categories completed one lap around the east end first (about 13 miles); the Sport class finished there. James Meyers was the Sport leader with a time of 47:12. Yves Abraham was second in 49:40; Laverne "Making a Comeback" Fredericksen was third.
Ralph Bartlett was the lone Expert rider, so he was placed on the starting line with the Elite class. After his lap around the east end, Bartlett went most of the way around and turned right onto Cramer's Park Road to continue on to the top of Point Udall, the eastern-most point of the island. Bartlett finished his 26-mile ride in 1:41:50.
The Elite class took on the east end loop nearly three times, with a climb to Point Udall on the second and third laps. With three young men on the line, the race was undecided and exciting to watch.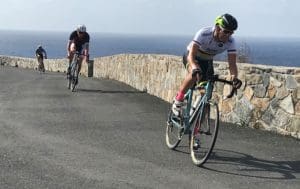 After the first lap, the timekeeper and spectators moved to the top of Point Udall, where the trio of Mikey Dizon-Bumann, Ian Collins and Dominic Pugliese led the race. David Parris, who was two minutes behind them, mentioned something about being old as he crested the hill. David Morales and recent U.S. Air Force Academy graduate Alex Lewit worked together to reach the top several minutes behind Parris. Jerry Remie was digging deep and was determined to finish the race.
The deciding moment came when Dizon-Bumann made a smart move while climbing Grassy Point. He said later that he wanted to make a move before it came down to a sprint to the finish. A sprint never happened because neither Collins nor Pugliese could respond as Dizon-Bumann rode away.
In succession Collins dropped Pugliese, who suffered a punctured tire near Divi. Dizon-Bumann, a 14 year-old student at Good Hope Country Day School, won the grueling 42.5-mile race in 2:22:56. Collins was second in 2:26:04. Pugliese, while running with his bike to reach Point Udall, was third in 2:36:03.
VIRGIN ISLANDS CYCLING FEDERATION
Ride To The Rings Road Race
Sunday, June 10, 2018
Start: Castaways; Finish: Point Udall
Elite: 42.5 miles/ EE Loop/ EE+PU/ PU to PU/ TOTAL
1. Mikey Dizon-Bumann 42:30/ 41:33/ 0:58:53/ 2:22:56
2. Ian Collins 42:30/ 41:36/ 1:01:58/ 2:26:04
3. Dominic Pugliese 42:24/ 41:37/ 1:12:02/ 2:36:03
4. David Morales 42:30/ 50:12/ 1:12:54/ 2:45:36
5. David Parris 42:30/ 43:45/ 1:23:01/ 2:49:16
6. Alex Lewit 42:37/ 50:05/ 1:18:53/ 2:51:35
7. Jerry Remie 44:47/ 53:30/ 1:14:10/ 2:52:27
Joey Swanson DNF
Expert: 26 miles/ EE Loop/ EE+PU/ TOTAL
1. Ralph Bartlett 47:57/ 53:53/ 1:41:50
Sport: 13 miles EE Loop
1. James Meyers 47:12
2. Yves Abraham 49:40
3. Laverne Fredericksen 52:06
4. Hubert Abraham 57:06
The next cycling race on the VICF calendar, the Quadruple Bypass, will happen at 7 a.m., Sunday, June 24. For more information, call 332-6282.