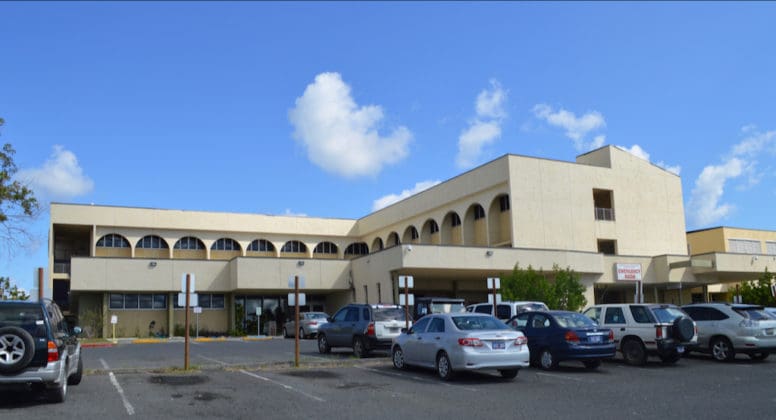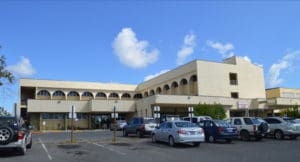 Modular hospitals, damage assessments, nurses' raises and financial struggles topped the agenda at a recent meeting of the Hospital and Health Facilities Corporation Board.
Board members at the Thursday meeting heard from leaders of the territory's two hospitals and elected new leadership for itself.
One of the first actions of new board chairman Julio Rhymer was to offer assistance to the chief executive officer of the Gov. Juan Luis Hospital in working through agreements needed to put modular units in place.
JFL CEO Wanda Ruben said she could not present the contracts at the meeting because she did not have all of the updated documents required. Rhymer suggested Ruben bring what she had and let the board assist in sorting it out. They could then vote on the terms of the agreement and pass it along to the board's legal counsel. Once it was checked for legal sufficiency the contract could be sent back to the board for final approval.
Rhymer was chosen to lead the board in an action item at the top of the agenda. Cornel Williams was elected vice-chairman, Dr. Ann Treasure was chosen to serve as secretary and Valdamier Collens was voted treasurer.
The pace of progress in getting St. Croix's modulars put together and in use has come up at Senate hearings over the past several weeks. Storm damage at both JFL and the Schneider Regional Medical Center complex on St. Thomas and St. John led emergency managers to order modular hospitals on all three islands.
Legal counsel Lorin Kleeger said he's aware of contracts for a modular dialysis center and an operating room for JFL making their way through Property and Procurement.
The greatest progress seen so far in getting the temporary units in place is on St. John. SRMC CEO Bernard Wheatley said eight of 10 modular units have arrived on island and are being set up in the parking lot of the Myrah Keating Smith Clinic.
"Hopefully we will be able to move into them by August," Wheatley said.
The St. Thomas medical center is working on plans and site development and creating a request for proposals for its modular hospital units.
Efforts to move modulars in place is happening at the same time as local and federal officials are still hashing out damage assessments for hospitals, clinics and the Charlotte Kimmelman Cancer Center on St. Thomas.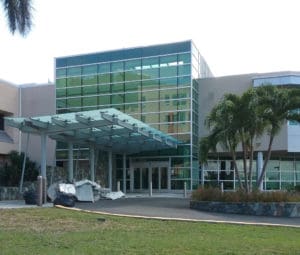 Gov. Kenneth Mapp has been promoting the idea of demolishing facilities and building new. Officials at the Army Corps of Engineers and the Federal Emergency Management Agency say they will support the governor's plan if assessments show hospitals and medical centers sustained 50 percent structural damage or more.
So far, that figure appears to be far off. Ruben said her latest assessment shows 14 percent damage at JFL; Wheatley said Kimmelman comes closest to meeting the threshhold at 40 percent.
Keating Clinic sustained an estimated 18 percent structural damage. Roy L. Schneider Hopsital is estimated at seven percent.
Wheatley told the board he is also waiting for final approval from a government agency to make progress at SRMC. He is waiting for final approval from the Division of Personnel to increase nurses's starting salaries by $11,500. Adjustment is also pending for nurses at the top end of the salary scale. Those who have been on the job for 16 years would see a $14,000 annual increase.
Up until now top salaries were only available to nurses with 19 years of service or more.
Staffing levels are becomming an increasing concern as SRMC patient volume starts to grow. Part of the anticipated increase includes the repatriation of kidney dialysis patients evacuated to Atlanta after September's two catastrophic storms. Schenider Hospital lost about 40 nurses after the passage of Hurricanes Irma and Maria.
Wheatley raised a separate concern about the pending loss of federal emergency assistance funds that have been used to supplement salaries for the medical staff.
There was also a new financial concern at Schneider. Wheatley and SRMC Chief Financial Officer Scott Nathnagel told the board about a $810,000 delinquency notice from the Bureau of Internal Revenue. They said the overdue payments were related to payroll withholding. Of that amount, $180,000 is due immediately, Wheatley said.
"We don't have that on our books, so the IRB is sending over documentntation of what that's related to, so I can verify it and record in our books and make a payment arrangement. It's another 800 grand the hospital will be struggling to come up with," Nathnagel said.
A task, he noted, that has to be mounted at a time when the SRMC Accounting Department has personnel shortages of its own.
Ruben said JFL also faces such financial headaches. If the balance of federal assistance funds do not arrive shortly, JFL will have a hard time meeting payroll by the end of the month, she said. A Community Disaster Loan of $22 million was approved for the St. Coix hospital; $13 million has been received to date, Ruben said.
"JFL has been told by (accounting consultant Ernst and Young) … that the hospital should expect the balance of $9 milion by June 15," Ruben said.
Collens, who also serves the territory as Finance commissioner, had his own concerns about funding reimbursement. Since the U.S. Treasury Department took over FEMA funding operations, the territory has been pressured to put up cash or hand over a portion of insurance reimbursements on government properties as part of the local funding match.
The board treasurer called Treasury's terms onerous, but told Wheatley and Ruben that Finance is working on a new round of funding for June.
If it all works out JFL can look forward to an additional $5 million, while SRMC receives another $3 million, Collens said.