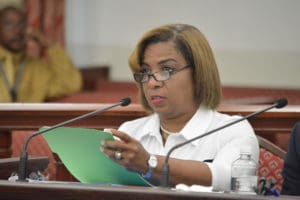 With funding projected to rise, then fall again over the next few years, some senators questioned the sustainability of spending increases and wage increases Tuesday during the first budget hearing for Gov. Kenneth Mapp's Fiscal Year 2019 budget proposal.
Sen. Nereida Rivera-O'Reilly (D-St. Croix) said public assistance checks were delayed in Christiansted recently "because the contractor was not paid for over a year." (See, "Public Assistance Checks for Christiansted Delayed" in Related Links below.)
"We are not are not paying our bills so how do you justify increasing expenditures and anticipate increases in revenue … when we can't even do the basics?" O'Reilly asked.
Budget Director Julio Rhymer said "when it comes to paying contractors I don't have control," but where he does have control, like paperwork on federal contracts, he has a three-day turnaround.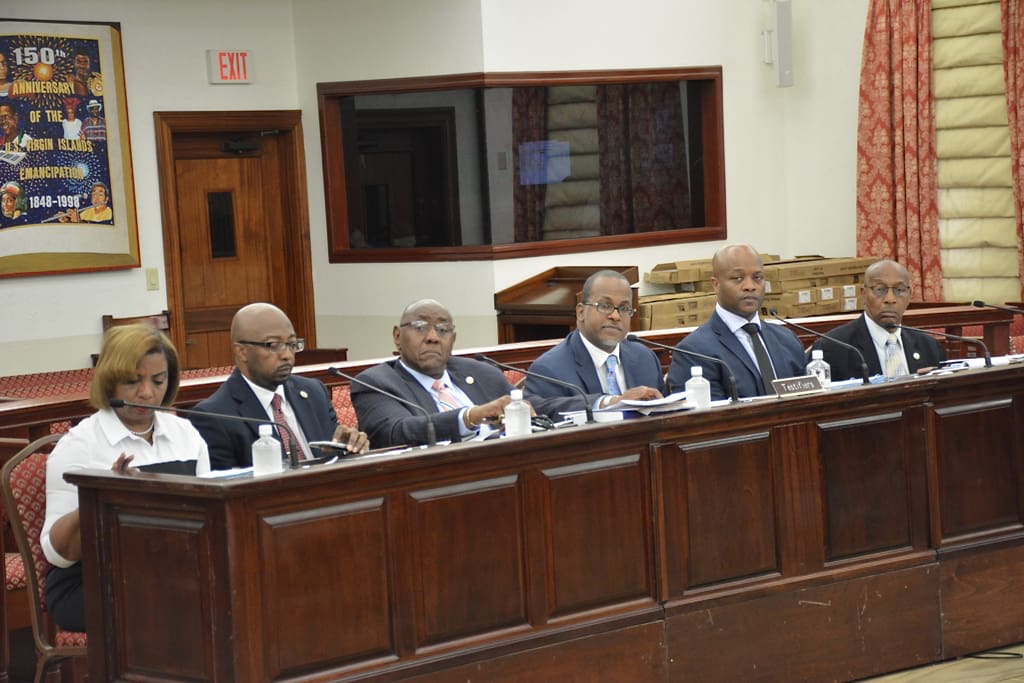 "But in regards to payment on contracts, that is something outside of my purview," Rhymer said.
The government has also fallen millions of dollars behind in paying contractors to run the territory's wastewater treatment plants (See, "V.I. Made Down Payment on Wastewater Treatment: It's Safe to Flush – For Now"), trash haulers (See, "Senators Get Few Answers on Delayed Pay for Waste Haulers"), and other contractors.
It had been more than $30 million behind in employer contributions to the rapidly collapsing Government Employee Retirement System too. The GERS took the government to court over the unpaid contributions and in April the government told the court it estimated the past due amount at around $36 million.
But for FY 2019 Mapp is proposing to increase employer contributions by 3 percent, The budget he submitted at the end of May specifies $8 million for "GERS Outstanding Employer's Contribution" and "GERS Additional 3 (percent) Contribution by Employer $11.0 M(illion)."
Instead of increasing the employer contribution "does't it make sense to just get rid of that outstanding obligation?" Sen. Kurt Vialet (D-STX asked.
Collens said the government had paid some of that balance and would complete payment by the end of July. "It was $40 (million) and we brought it down to $15 million," Collens said.
"We both know that if you are talking about a three percent increase by even the police department you might surpass this $14 million. So where, how, who are you going to divide up this $14 million? You talk about teachers, you talk about Public Works, you talk about some of everybody," Sen. Positive Nelson (ICM-STX) said to Chief Labor Negotiator Natalie Tang-How.
"That amount is based on overall projections for increases but the amount that is actually going to come out from negotiations … we are not able to predict," because it depends on the collective bargaining agreements, Tang-How said.
"But you would agree it ($14 million) is insufficient?" Nelson asked.
"I agree with you," Tang-How said.
"You are building up people's hype and hope knowing full well $14 million is insufficient to give any substantial increase," Nelson said. "Today can you tell us based on the governor's $40,000 offer for starting pay for police, what does that cost the government," he continued.
"I can't tell you off the top of my head but I can tell you those numbers have been calculated," she said, indicating they are included in the departmental budget numbers.
Mapp's FY 2019 general fund expenditure budget request allocated $639 million to the executive branch departments and agencies. Majority Leader Neville James questioned the decision to reduce appropriations for the Legislature by $1 million.
Sen. Janelle Sarauw (I-STT) asked if there were any plans considered to pay back employees money owed from a temporary eight percent pay cut enacted by the Legislature in 2011.
"My understanding as the law is written, we can begin to accumulate those funds; roughly $65 to $68 million owed, in 2021 by utilizing the Environmental Impact Fee," Collens said.
Mapp's FY 2019 budget, submitted before the May 31 deadline, proposes total spending of $1.28 billion. That includes $851.34 million in local funds and $238.66 million in federal funds.
That is about $6.5 million more than Mapp's FY 2018 budget, which totaled $1.22 billion with $1.03 billion in local funds and $196.5 million in federal grant funds.
The FY 2018 budget was never enacted because of the chaotic situation after last fall's storms. Instead, the FY 2017 appropriation levels were automatically applied for FY 2018. The FY 2017 budget started with $1.35 billion in total spending, with $1.16 billion in local funds and $193.5 million in projected federal funds.
The projected $40 million in extra federal funding makes a big difference to the bottom line.
Mapp's revenue numbers project big drops in some areas, offset by big increases in gross receipts tax and income tax revenues. Mapp anticipates $193.9 million from gross receipts taxes this coming year. That's $37 million more than the projected totals for the current year and $30 million more than FY 2017, which ended just after the storms of September 2017.
So far, from October to now, FY 2018 gross receipts taxes are about $13 million below the same period the year before. But the trend is upward, with April 2018 gross receipts revenues up $2.6 million over April 2017.
Mapp also projects more income tax revenues, partly driven by recent increases in the minimum wage and partly by economic activity from rebuilding. His budget projects $412.9 million for personal income taxes for the current FY 2018 – a $68 million jump from FY 2017. It anticipates a further $40 million jump in FY 2019.
There will have to be sharp growth in the next few months as, so far, actual revenues are well below that target. For the first five months of FY 2018 – from October through February – IRB's individual income tax receipts showed gains of more than $10 million over the same period in FY 2017.
But April 2018's individual income tax receipts of $35.4 million were less than half of April 2017's. As of the end of April, individual income tax revenues for the year were about $29 million below the same period in FY 2017, according to the data at the Bureau of Internal Revenue's website.
If all goes according to plan, most V.I. government agencies will see relatively stable funding levels.
The public school system, by far the largest V.I. government agency, gets $172.7 million from the General Fund in Mapp's FY 2019 budget. With another $32 million in federal funds and a bit more from various other sources, the schools are budgeted at $207.1 million; down about $5 million from FY 2017 but virtually unchanged from FY 2018.
Human Services is at $65.4 million for FY 2019; down from $69 million in FY 2017 and about the same as Mapp proposed for FY 2018.
The Police Department is budgeted at $61.4 million; up from $58 million in FY 2017 and down from $61.4 million in FY 2018.
The Fire Service is budgeted $18.9 million from the General Fund and another $2.2 million from federal and other sources, for $21.12 million; effectively the same level as the last two years.
Mapp gives his own Office of the Governor $10.79 million for FY 2019 – about $1 million and 10 percent more than in FY 2018 or FY 2017.
His budget has $20 million for the Legislature and $38.7 million for the court system.
While the budget outlines the severe impact to the territory's economy in the aftermath of Hurricanes Irma and Maria, the billions in federal dollars the Virgin Islands has received will provide for economic growth, according to Government House, which projects $131.69 million in new revenue from rebuilding activities and other revenue sources.
Committee members present included: Vialet, O'Reilly, James, Sens. Marvin Blyden (D-STT), Brian Smith (D-At Large) Tregenza Roach (I-STT) and Dwayne DeGraff (I-STT). All members were present. Non-committee members present included Sarauw, Nelson, Senate President Myron Jackson (D-STT), Sens. Jean Forde (D-STT), Novelle Francis (D-STX). Alicia "Chucky" Hansen,"(I-STX) and Janette Millin-Young (D-STT).