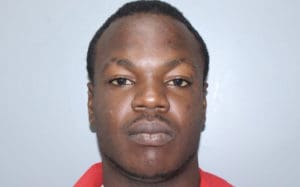 A Superior Court magistrate this week doubled the bail for Shakoi Mactavious, who is charged with assaulting a nightclub patron May 21 in Cruz Bay.
Mactavious was arrested on a warrant Sunday in connection with an alleged assault at Nella's Lounge on May 21. He is charged with first-degree assault, third-degree assault and use of a weapon in the commission of a violent crime.
V.I. Police Department spokesman Glen Dratte said a man was stabbed and sustained a fractured skull in the incident. According to police the victim was stabbed multiple times.
"The victim was flown off island for medical care," Dratte said.
Court records indicate Mactavious used a knife in the nightclub attack. Magistrate Caroline Percell signed the warrant June 1 and set bail at $100,000. He was remanded to the Criminal Justice Complex on St. Thomas, pending an initial appearance.
When the defendant appeared before Percell a few days later, the magistrate doubled the bail to $200,000. The increase may have been linked to past offenses attributed to Mactavious. Among the charges listed in three previous arrests between May 2016 and August 2017 were robbery and other first- and third-degree assaults. First-degree assault is a local charge indicating the accused used a weapon or a threat of harm against the victim.
In order to gain pre-trial release Mactavious would have to post a ten percent bond in cash or property, or $20,000. Public Defender Julie Smith Todman produced a person to serve as a third party custodian.
Percell set Mactavious's arraignment for 9 a.m. June 21.
Dratte also said investigators are still seeking witnesses to provide information on the incident at Nella's Lounge.
Police urged anyone with information on the incident to contact the Criminal Investigation Bureau at 340-714-9807, the 911 call center, or the anonymous tip service, Crimestoppers USVI, at 1-800-222-8477.
Editor's note: This story also appeared in the St.John Tradewinds.