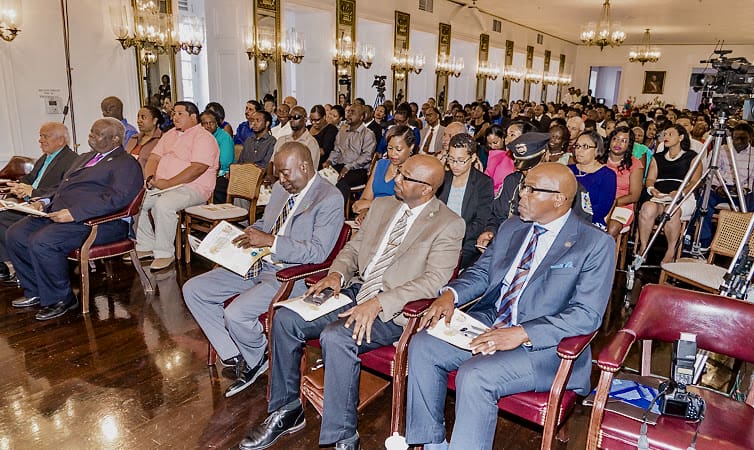 Gov. Kenneth Mapp expressed his gratitude to almost 80 government employees at the Division of Personnel's 29th Annual Employee Recognition Week ceremonies at Government House on St. Thomas and St. Croix recently.
According to a Government House news release issued Monday, Mapp said the accomplishments were even more impressive given the challenges faced by public employees in the aftermath of Hurricanes Irma and Maria.
"This year's event is particularly important because the public sector employees who worked under tremendous conditions had to also serve the public after two major hurricanes," Mapp said. "Your work across this entire government is appreciated. We wish to share our sincere gratitude and say thanks to you for the work you continue to do."
Personnel Director Milton Potter also acknowledged the hard work of Virgin Islands government employees.
"The Virgin Islands Government has literally thousands of great employees who do their jobs well, with a sense of pride, purpose and professionalism," Potter said.
Mapp recognized Office of the Governor's Employees of the Year Darren Smith, facility engineer in the St. Thomas/St. John District, and Lamarr Jacobs, uniformed security supervisor in the St. Croix District, for their commitment to public service and their invaluable contributions to the people of the Virgin Islands.
"I appreciate tremendously the work you do at the Office of the Governor. I appreciate your loyalty, your devotion and your attention to your work. I congratulate you on the example that you set for everyone working in the public sector," Mapp said.
Mapp commended all public sector employees for their efforts to serve their community.
Here are the 2018 V.I. Government employees of the year for each V.I. government agency, for St. Thomas and St. John and for St. Croix, respectively:
Bureau of Corrections: Elvin Pemberton, Deborah Samuel;
Bureau of Information Technology: Daniel Nieves, Victor H. Edney III;
Bureau of Internal Revenue: Gabrielle M. Dazle, Monique M. Williams;
Bureau of Motor Vehicles: Donna Harrigan, Shermaine Jack;
Department of Agriculture: Derick "Alpha" Hodge, Orlando "Landy" Melendez;
Department of Education: Benise T. Tavernier, Charles Creighton;
Department of Finance: Sylvia Amaro, Rashown Soldiew;
Department of Health: Acia Brathwaite, Jacqueline Greenidge-Payne;
Department of Sports, Parks & Recreation: Kayron Thomas, Efrain Rivera Sr.;
Department of Human Services: Camille Elizabeth Aubain, Dashurn Montanez;
Department of Justice: Edris Clyne, Aquanette Clarke-Gumbs;
Department of Labor: Mary Armstrong, Kim Monsanto;
Department of Licensing and Consumer Affairs: Murvin A. Abramson, Jr., Joycelyn McFarlande;
Department of Planning & Natural Resources: Alexis Sabine, Ellerton Maynard;
Department of Property and Procurement: Jessica C. Henderson, Katisha King;
Department of Public Works: Joseph J. Jerome, Marcos Heredia;
Department of Tourism: Tanya Duran. Anastacia Joseph;
Division of Personnel: Nyola Christopher-Brathwaite, Chemyne Ible-John;
Economic Development Authority: Raheem Smith, Jahnella Harvey;
Juan F. Luis Hospital & Medical Center: Wilfrido Vega Torres;
Legislature of the Virgin Islands: Wycliffe S. Williams, Sherry Lee Walters;
Office of Management and Budget: Jackwrel Wallace;
Office of the Governor: Darren Smith, Lamarr Jacobs;
Office of the Lieutenant Governor: Denise Johannes, Chalma Moorhead;
Public Services Commission: Andrea N. Hamilton, Jamil A. Springer;
Schneider Regional Medical Center: Gary Smith;
Judicial Branch of the US Virgin Islands: Inez Hunt Todman, Earl Andrews;
Government Employees Retirement System: Elizabeth Acosta-Rivera, Yaneria Knight;
University of the Virgin Islands: Monifa Potter, Debbie Joseph;
Election System of the Virgin Islands: Blanca Maldonado
Virgin Islands Energy Office: Carl Joseph, Lucy Estephane-Justin;
Virgin Islands Fire Service: Patricia Benjamin, Hubert Bartlett;
Virgin Islands Housing Finance Authority: Jennifer Jones, Rosalind Estrill;
Virgin Islands Lottery: Almando Brooks, Hector Romero;
Virgin Islands Police Department: Kathleen E. Powell, Georgiana Farrell;
Virgin Islands Port Authority Khaliah A. Rieara, Pedro Juan Estien;
Virgin Islands Public Broadcasting System: Marie L. White, Ato Hodge;
Virgin Islands Territorial Emergency Management Agency: Irvin Mason, Sr., Kieran Isidore;
Virgin Islands Waste Management Authority: Jasmin Thomas-Blyden, Rueben Irwin;
Law Enforcement Planning Commission: Tisha L. Lennard;
Office of Veterans Affairs: Juliette Frederick