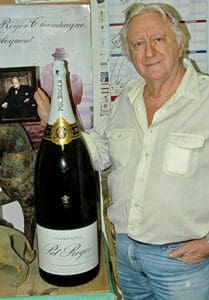 Frank Machover can remember the St. Thomas of 1951. His family came here from Bermuda when he was 12 years old. In short order, Isaac Machover was successfully operating a Main Street retail store offering high end goods like fine china, perfume and quality linens, and planning for the day when his son would join him in business.
But military service took Frank to the White Sands Missle Range in New Mexico, where he became a tech in the Army's photography lab. After his hitch, his interest in photography moved him to Texas, where he managed a camera store.
Retail was in his blood.
Eventually the senior Machover's hope for him to join the family business was fulfilled. He returned to St. Thomas in 1962, adding his good instincts and industrious nature to the operation.
"The perfume business back then was like jewelry is today. St. Thomas had more than 30 stores between downtown and Havensight. The market kept growing" Machover said.
"I liked the business even more after meeting a lovely sales representative named Chantal Gueydon de Dives, who was sent to St. Thomas by one of the larger perfume companies," he said.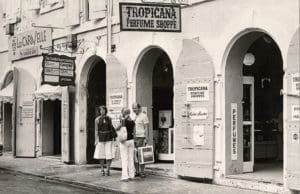 Chantal and Frank became partners in business and in life. They worked together to open "The world's largest perfume store," Tropicana Perfume Shoppe.
They later left that business and opened a series of retail stores on St. Thomas. Elders might remember Cheshire Cat, Sophisticat, Leonardo, and Vogue Boutique.
"Thanks to our sales volume in Tropicana we were offered perfume distributorships by many leading brands. At one point we carried 20 lines," Frank said.
After the devastation of Hurricane Marilyn in 1995, tourism fell, as did the perfume business. Sales slumped and manufacturers were squeezing distributors to maintain profits. Perfume could now be bought for about the same cost in the states, as opposed to the 20 percent savings St. Thomas previously offered . Frank and Chantal pondered their next move.
Visits to Chantal's family in the south of France often meant exploring the wine region for extraordinary bottles to bring home to St. Thomas, where they were often shared with casual lovers of the grape and genuine oenophiles. Before long their lucky guests were requesting their favorites so often that Frank filled a container and shipped it home. He was becoming the territory's French wine specialist.
The wines were and still are from small-growth farms with output too limited to interest the big distributors. Many labels had never been seen beyond the French border. St. Thomians loved them and the business, V.I. Wine Wholesale, began to grow.
Machover responded in 2000 by creating a website to describe, discuss and sell his "discoveries." (The website says V.I. Wine Wholesale is a "Frank Leonard Company." Leonard is Machover's middle name.)
He began listing scores of French wines that no one had heard of at unheard of prices. Local restaurants ordered cases of Frank's wines and all was good.
"The word was getting around that we knew quality, pricing and delivery" Frank said. "The growth continued until the anti-French sentiment took hold. Remember 'freedom fries?'"
(In the early 2000s, to protest France's opposition to American intervention in Iraq, some supporters of George W. Bush's policy took offense at all things French, going so far as to change the menu in the Congressional cafeteria. French fries and french toast became, for a while, freedom fries and freedom toast.)
"Diners asked restaurants to take French wines off their menu, and the business once again depended on friends and their friends who appreciated my choices," Frank said.
But the business bounced back as the jingoistic sentiments faded and the word of mouth spread. Restaurants came back, ordering via the website, as did charter boats, villas and regular customers.
Frank's next challenge presented itself in 2008 when the world economy tottered on the edge of collapse. The great recession stifled tourism and limited local spending on anything beyond essentials. The charter boat business softened and restaurants downsized their wine cellars. Again, he read the marketplace and modified his inventory to match the times.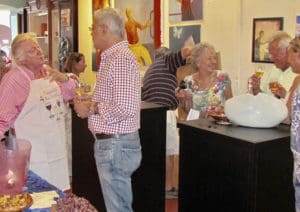 While his much larger competitors ordered large quantities of their biggest brands, Frank said, he intensified his search for "finds" at lower price points and focused on styles well suited to the climate here. This led to a larger catalog of whites and the crisp, dry rose' wines of southern France. The company's offering of sample boxes of six different bottles give the wine lover on a budget a variety of wines without a case commitment.
"2008 was a reset moment for me. I had to spotlight value more than ever now and educate the consumer as well. The website and the newsletter were never more important" Frank said.
As the world, the territory and the wine business climbed out of the financial doldrums, Machover added more labels, expanded the sample boxes and capitalized on his appointment as the exclusive distributor for Pol Roger, Winston Churchill's champagne of choice. He was well positioned for the growth years ahead and maintained solid year-to-year increases until September – when Hurricanes Irma and Maria delivered a seven-month set back to his plans.
The devastation and disruption limited sales and shipments and meted out a substantial reduction in month-to-month revenues.
"We never stopped moving. Like the shark, if you stop moving you die!" he said.
This is Frank Machover's modus operandi, or MO. He is always ready for a "makeover." From perfume to wine, retail to wholesale in good times and bad.
"I'm happy to say that May's sales will equal last May and indications are positive for the foreseeable future," he said.