Staring upward into the blazing sun, Virgin Islander Austin Callwood smiled Friday morning when he heard the horn of the Coast Guard's Eagle Cutter, docked in the middle of the Charlotte Amalie Harbor.
"All right, it's time to depart," he said. Around him on the deck of the cutter, cadets scrambled up the riggings, hauled ropes and gathered at the helm. The ship wasn't really moving, but the cadets wanted to show members of the public – who were on board for a free tour – what actually happens when they're leaving port and about to engage in active training.
The tall ship Eagle, a 295-foot barque that is the flagship of the U.S. Coast Guard, serves as a training vessel for cadets at the Coast Guard Academy and candidates from the Officer Candidate School. Eagle is the only active-duty sailing vessel in America's military. The crew has been giving free public tours since the cutter came into port last week, and will continue doing so throughout the weekend, from 10 a.m. to 7 p.m. Sunday.
The ship was Callwood's first home when he graduated from the Coast Guard Academy in 1980. He trained on her for four weeks, sailed on her from Connecticut to Madeira, Portugal, and mentored other cadets over the past 20 years as they've learned to sail.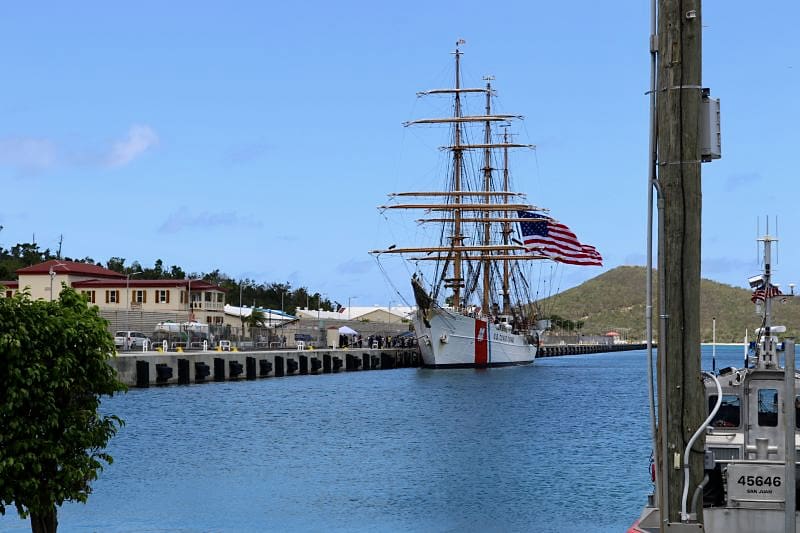 "When I graduated in 1980, the Cutter Eagle came into port that year, so I was actually able to come out and ride her into St. Thomas," Callwood said. "This is like homecoming to me."
Making the event even more memorable, Callwood and colleague Alvin Dalmida, a retired Coast Guard lieutenant, had invited on board Friday the parents and siblings of several of the local Coast Guard cadets they had trained, making it a family event.
"People don't realize how much of an impact Virgin Islanders have made in the Coast Guard," Callwood said. "Right now there are about 120 active duty V.I. residents in the Coast Guard, not to mention all of the cadets we have helped mentor and guide into the program over the past 20 years."
The Cutter Eagle primarily serves as a training ship for the academy and routinely sails with a permanent crew of eight officers, 50 enlisted personnel, and up to 153 cadets – a total of more than 200 hands at a time.
Cadets and officers will also work around the island with various non-profits, which Capt. Matt Meilstrup said will give the group the chance to help with recovery, enjoy the warmth of the community, and pay homage to the territory's resilience in rebounding from September's storms.
Thanks to the hospitality of the cutter's crew, the Source was able to take an in depth tour of the both and capture it on video.
Editor's note: This story has been edited to correctly reflect Austin Callwood's training record. The Source regrets the error.