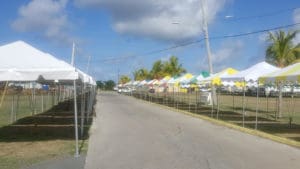 From the "Big Tent" to the "East Stage," attendees of the 47th annual Agricultural Fair will get their fill of cultural masqueraders, dancers and a host of local entertainment.
The fair opens on Memorial Day weekend, Saturday through Monday, May 26 to 28 in Estate Lower Love, St. Croix with the theme "V.I. Agriculture Strong. Rebound, Rebuild, Regrow."
Here's the entertainment lineup:
Saturday, May 26
Location – Big Tent
10 a.m. – 12:30 p.m. – Opening Ceremonies
1 p.m. –  3:00 p.m. – DJ Swain
3 p.m. – 6 p.m. – Play Boys V.I.
Location – East Stage.
1 p.m. – 3 p.m. – DJ Myron
2 p.m. – 5 p.m. – Grand Quadrille Dance with Stanley & The Ten Sleepless Knights
3 p.m. –  4 p.m. – Ay Ay Cultural Dancers
Throughout the Fairgrounds
12 p.m. – 2 p.m. – St. Kitts Masqueraders
Sunday, May 27

Location – Big Tent
9 a.m. – 2 p.m. – Church Service & Caribbean Gospel Singspiration
3 p.m. – 6 p.m. – Marsvyn David & The Caribbean Players, "One Culture, One Music"
Location – East Stage
11:30 a.m. – 2:30 p.m. – Basic Vybz Band
2:30 p.m. – 3 p.m. – WDY Cultural Dancers
3 p.m. – 6 p.m. – Liquid Sound Brass
Throughout the Fairgrounds
2 p.m. – 4 p.m. – St. Kitts Masqueraders
Monday, May 28
Location – Big Tent
12 p.m. – 3 p.m. – Mind Body and Soul Band
3 p.m. – 6 p.m. – Black Star Reggae Band featuring Cherise King and Blackness
Location – East Stage
12 p.m. – 3 p.m. – Tony Romano Band
3 p.m. – 6 p.m. – Fusion Band