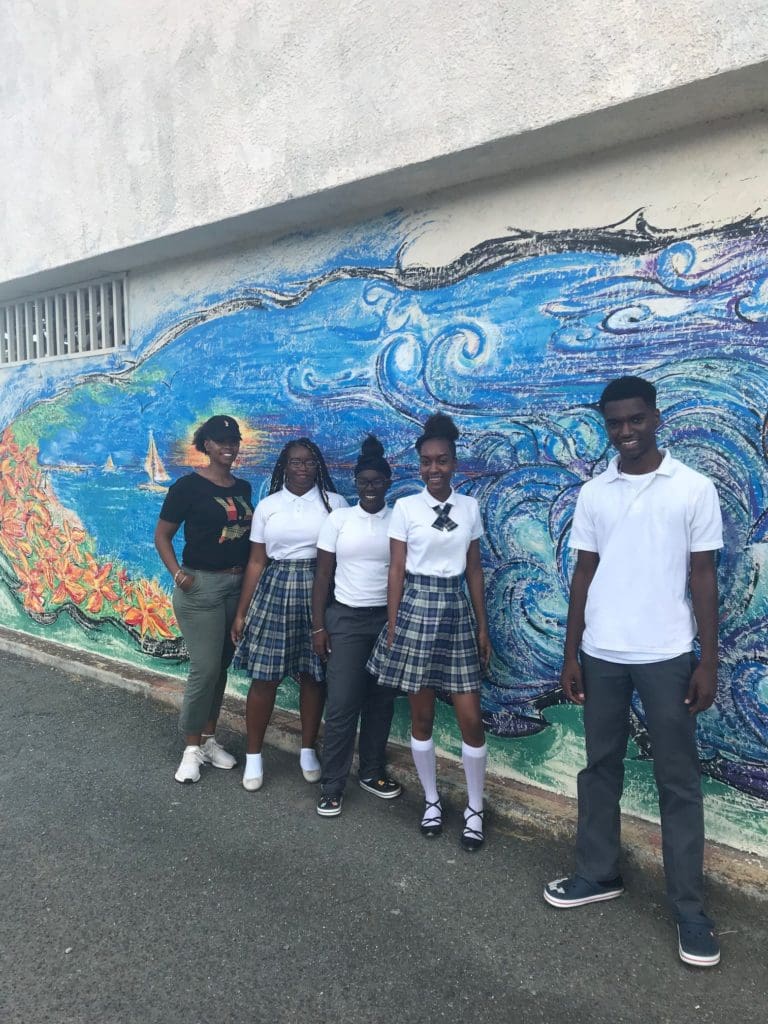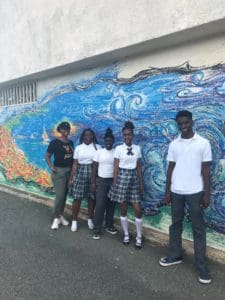 Saint Croix Walls Project is an up-and-coming, unique, outdoor art gallery that is announcing a new installation: Putting Art Into Recovery (PAIR).
Saint Croix Walls Project was established in 2016 by Glenda Smith, who, after visiting St, Croix for many years, moved on island full-time in 2015. The concept for a "walls project" had been percolating for years after her first viewing of the old Hovensa Oil Refinery in the 1980s.
She knew back then that the idea of an unexpected combination of an industrial complex and an "outdoor art gallery" could work.  Although the current Limetree Bay facility is out of reach, the V.I. Waste Management Authority recognized the transformative potential of the concept and authorized her to place art at its facility at Cotton Valley and the Williams Delight pump station.
The transformation was amazing. In addition, an old rusty water tower on the East End became St. Croix's first "urban skyscape," and a defunct industrial blockhouse on the South Shore turned into a colorful "island lighthouse." Smith has plans for many more installations across the island.
The Saint Croix Walls Project mission was expanded after the devastating 2017 hurricane season. At this crucial turning point on St. Croix, PAIR offers an outlet for artists to express their representation of the effects of the storms and gives them a way to contribute to recovery of the island through art. Locals and visitors will see how the community is bouncing back, beyond new power lines and waste removal, by presenting art as a beautiful expression of spirit.
PAIR is a post hurricane endeavor to bring color, positivity, beauty and heART to St. Croix in the U.S. Virgin Islands. St. Croix Walls Project received a Care Fund Grant from the St. Croix Foundation to support PAIR as part of the recovery effort after the two hurricanes.  St. Croix Walls Project has secured sites (walls) to serve as diverse "canvasses" across the island. In the first weeks of the project, blank walls at Sunshine Mall are being transformed by local art students and professional artists.
About the Artists
Tamara Michael was born and raised in a small town in Ontario, Canada. She says that during her childhood she was blessed with living in a "rich artistic atmosphere in Canada." After graduating with a fine arts degree from Georgian College of Applied Arts and Technology in Barrie, Ontario, she lived for 30+ years in Central Florida, until she and her husband moved to St. Croix. She paints murals, portraits and landscapes, as likes assembling sculptures from "lost and found" objects.
Vitaly Lopez was born in 1997 in the Dominican Republic. When she was 17, the family moved to St. Croix where she finished high school at the St. Croix Educational Complex. She was a part of the Association of Art of St. Croix. Lopez is now studying fine art with an additional concentration on production of TV and radio at the Pontifical University Catholic of Puerto Rico (PUCPR). Her work has been exhibited at the law library at PUCPR, and she has exhibited her work at various museums and theaters in Puerto Rico. Currently she is exhibiting at the municipal library in Ponce, Puerto Rico. She is a returning artist to the St. Croix Walls Project. Lopez's first outdoor mural was painted in Cotton Valley, St. Croix. She also created a 12' x 20' out door mural in Frederiksted.
Annie Bao is a Manhattan-based contemporary surrealist painter who specializes in oil portraits of people and animals. Her work depicts a fascination with the complexity of the human condition; it is a careful negotiation between real life and the fantastic. She aims to redefine chronicling contemporary life through pictorial satire and evocative whimsy.
Bao learned the fundamentals of painting as a child from the China Central Academy of Fine Arts in Beijing where she earned a place to study piano performance at the Central Conservatory of Music. She continued to draw and paint after her family moved to California when she was 12. Bao went on to graduate from Columbia University with a master's degree in international affairs. She began pursuing painting seriously after graduate school and has since studied under Cornelia Foss and Robert Cenedella at the Art Students League of New York.
In 2012, Bao left her job as a political analyst to pursue her painting business, Annie Bao Art, full-time. The business sells both commissioned portraits and non-commissioned paintings to private collectors and clients.
Student artists:
Jhylie Roebuck –    11th grade
Marcy Christian –   12th grade
Armani Doward –   9th grade
Surria Augustin –    10th grade
These young high school students are also LIT members (Leaders In Training) at the Caribbean Centers for Boys & Girls Club, VI. They are all living in the Frederiksted area and are great students. Emmanuella Perez-Cassius ("Ms. Bella") is the Frederiksted unit director for Boys & Girls Club.