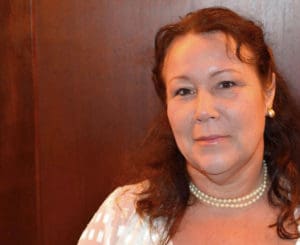 Diane Magras, a Board of Elections member for St. Thomas, has tendered her resignation from the board, with a scathing letter about the board's actions.
Magras was the top vote-getter when last elected in 2014 with 2,704 votes. Her term ends at the end of this year and the seat was open for election in November. Magras did not file papers to run for the office again this fall.
By law, the highest vote-winner that did not win a seat that year takes the place of a member who resigns or is otherwise no longer on the board. That person is Harriet Mercer, who had 2,398 votes in 2014. Mercer ran as an independent in 2014 and is running for the seat in November as a Republican.
Magras' resignation letter echoes claims she has made before, some of which are factually inaccurate and which have been heard in court and rejected.
Magras and Mercer, her replacement, teamed up to sue to stop the certification of the election in 2012 and again in 2016. Judges tossed their suits for lack of merit both times.
In 2012, Magras and Mercer both lost elections and made an inaccurate claim about the certification to argue that it did not count.
They sent out a press release saying the certification did not count because it "was NOT signed in our presence; and the one which Board Member Boschulte did sign was some other paper. We have a picture of that. We know because Board Chairwoman Wells told us the original cert. doc. already went downstairs when we asked to see the signed version. We saw none of the 5 Board Members present sign it in public, nor take it downstairs."
But the Source received a photocopy of the certification document within an hour of its signing, and it was plainly signed by five members of the board, including Boschulte, demonstrating Magras' and Mercer's allegations to be inaccurate. (See "ANALYSIS: Complaints, Calls for New Elections Lack Merit and Waste Time," in Related Links below)
They filed suit in U.S. District Court to stop the certification and force a new election. Their suit was tossed out in 2013 for lack of merit. They sued again in 2016, this time in Superior Court, again without avail.