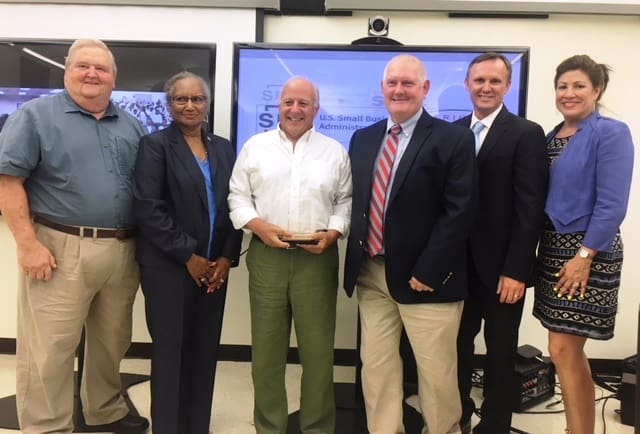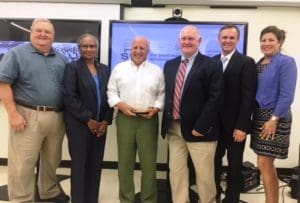 The U.S. Small Business Administration (SBA) and the Virgin Islands Small Business Development Center (VISBDC) honored Gold Coast Yachts president Richard Difede with the "2018 Virgin Islands Entrepreneur of the Year Award," according to SBA District Director Yvette T. Collazo and SBDC State Director John Osoinach.
Collazo and Osoinach presented Difede with his award at the Small Business Week Awards Ceremony held at the University of the Virgin Islands in Kingshill, St. Croix.
"Small Business Week is all about recognizing the great contributions small businesses like Gold Coast Yachts make to our economy," said Collazo. "Entrepreneurship takes passion, dedication and commitment, all of which Richard Difede has demonstrated throughout his many years in business. The SBA is pleased to honor him."
Founded in 1986, Gold Coast Yachts designs and builds personal and commercial vessels such as sailboats, catamarans and support vessels. To date, the company has been commissioned 124 vessels and currently provides direct employment to some 45 people.
Also, the SBA honored St. Thomas' Tickles Dockside Pub, owned by Louis Morrissette, with the "Resilient Small Business of the Year." The pub is being honored for its support and contributions to the community in the aftermath of Hurricane Irma.
In addition, the SBA bestowed the "Lender of the Year Award" on Banco Popular de Puerto Rico.
"The Virgin Islands SBDC is delighted to join the SBA in recognizing some of the territory's top businesses today," said Osoinach. "Both Gold Coast Yachts on St. Croix and Tickles Dockside Pub on St. Thomas exemplify the best in business, and we are proud to work with them."
For information on SBA assistance for small businesses, visit www.sba.gov/pr.