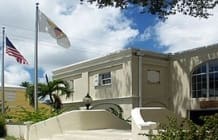 The Division of Libraries, Archives and Museums has created the Story Time Initiative, which will foster and promote community involvement and will serve as a catalyst for youngsters to develop a love of the library and reading at a young age, according to the V.I. Department of Planning and Natural Resources.
Story Time will be held in The Children's Room at the following libraries:
St. Croix: Florence A. Williams Public Library, Christiansted (Every Tuesday from 10-11 a.m.
St. Thomas: Charles Wesley Turnbull Regional Public Library located at Tutu Park Mall (Every Wednesday from 10-11 a.m.). This library will relaunch the initiative on Wednesday, June 6.
DPNR Commissioner Dawn L. Henry Esq. invites everyone to participate in this community-oriented initiative at a public library nearby.