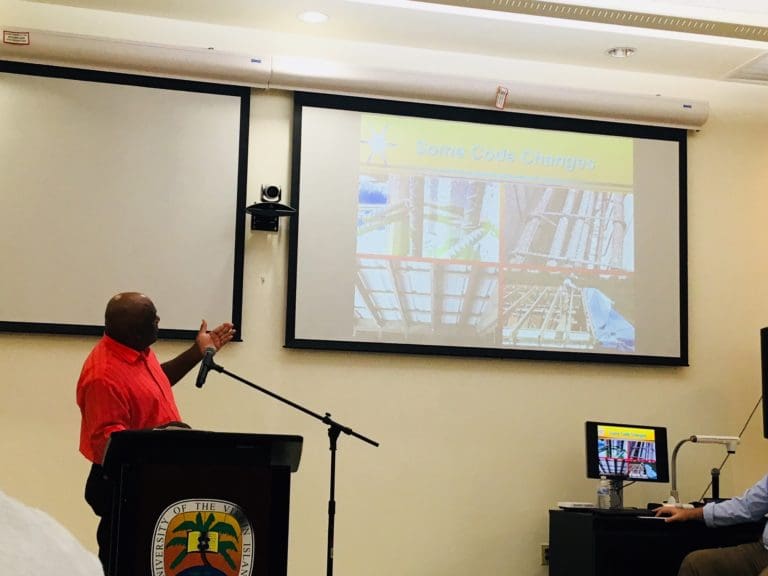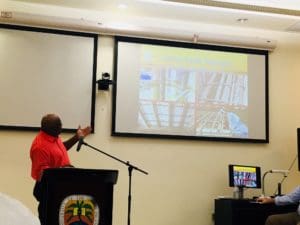 The Department of Planning and Natural Resources and the Federal Emergency Management Agency provided homeowners and contractors with information on recently-updated building codes and guidelines at a public briefing Wednesday.
The briefing, which was held at the University of the Virgin Islands' administration and conference center, drew nearly 100 people. FEMA's Mitigation Assessment Team members Michael Foley and John Ingargiola joined DPNR's Douglas Hodge to deliver the briefing and field questions.
Informational DPNR and FEMA handouts on updated building codes, flood prevention, and other guides for disaster preparation were available for the taking. The briefing was focused primarily on the Fourth Edition of Construction Information for a Stronger Home, published in April 2018 by DPNR. The 100-page document details structural guidelines for building foundations, floors, walls and roofs, and includes connector design tables.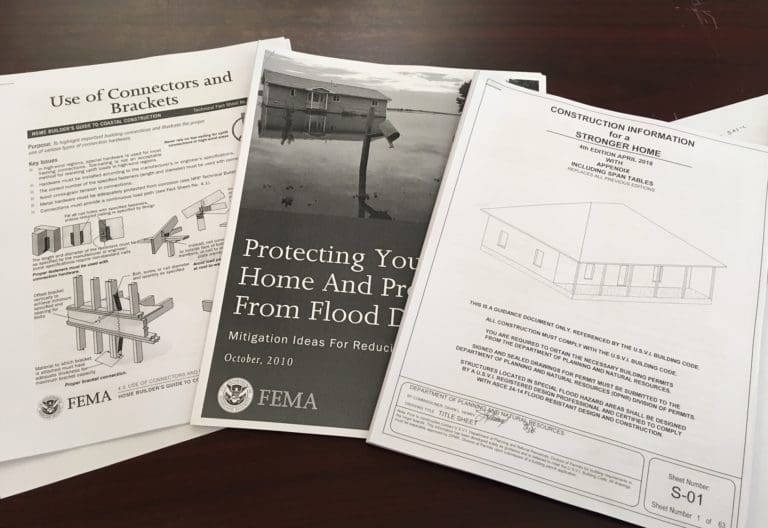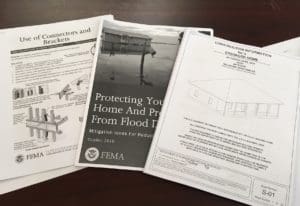 Hodge opened the briefing by reviewing the history of building codes in the territory, before touching on the enforcement of codes and the permitting process for applicants. He spoke in detail about code changes since Hurricane Marilyn.
"I want to tell everyone who is an architect, engineer, or contractor that we have done a real marvelous job after Marilyn," said Hodge. "All of the code changes that FEMA recommended, which DPNR enforced … you've shown that it works."
Hodge flipped through a slideshow of photo comparisons of structural code before and after Hurricane Marilyn devastated the V.I. in 1995.
Attendees of the briefing were encouraged to ask questions. One man asked what percentage of roof damage would be required to stipulate an entire roof reconstruction project, based on new V.I. building codes.
Hodge replied, "If more than 50 percent of the roof is gone, then the entire roof must be replaced. If less than 25 percent of the roof is gone, you can put it back as it was."
Another attendee, who said he was a contractor, mentioned that increased costs are a concern with heightened code measures.
"We've reviewed this in our office and have found a few areas where we think that some of the things that are being recommended would not have stopped the damage that was caused [by Irma and Maria.] I think in some areas we are increasing the cost of construction without benefit," he said.
Hodge responded that territory-wide home damage incurred by Hurricane Marilyn was greater than the damage wreaked by hurricanes Irma and Maria in 2017, suggesting that the results of stricter building codes speak for themselves.
Ingargiola opened the FEMA portion of the briefing by mentioning the earliest known building code from 1772 B.C., known as the Code of Hammurabi, which he quoted, for levity:
"If a builder has built a house for a man and has not made his work sound, and the house he built has fallen and caused the death of it's owner, the owner will be put to death."
"What a harsh set of provisions we had back then – I'm glad we have something a little more civil now," Ingargiola said, which brought laughter from the audience.
Ingargiola then reviewed Construction Information for a Stronger Home in detail for approximately 45 minutes.
Building costs are high in the V.I., and the further heightening of those costs was a primary concern for attendees of the briefing.
One man spoke on that issue after Ingargiola finished his presentation.
"What about cost analysis – a sheet of plywood for instance. It's recommended we use 3 inches on center placement for screws. That's 144 screws. I noted you're recommending or mandating stainless steel screws. Was there any analysis between the stainless steel and the galvanized screws?" he said.
Ingargiola responded, "It's a good point that you make, that making these codes more stringent, there's costs associated with that. We want reliable performance, predictable uniform performance, and it's reflected in the selection of some of the materials. I wish I had a penny by penny cost analysis but I don't."
After the presentation some construction contractors gathered outside, discussing current workloads, while others began conversations with the presenters.
"The event was well organized and handouts will be helpful," said Matt Biwer, a homeowner whose house suffered severe damage from Hurricane Irma. "As we look forward, it's reassuring to learn that the building codes enacted after Marilyn were effective against Irma."
Construction Information for a Stronger Home is available through FEMA and DPNR.
FEMA representatives said they did outreach at Home Depot and MSI on St Thomas with printed materials on hand. 2018 disaster preparedness events are planned for May 19 at Sunny Isle Amphitheater on St. Croix, and June 2 Tutu Park Mall on St. Thomas.