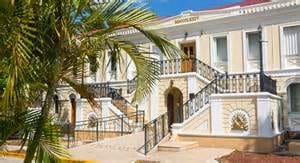 Gov. Kenneth Mapp has signed into law a bill from Sen. Myron Jackson to ban digital and animated billboards in the territory.
The bill (Bill 32-0059) also abolishes the exemptions from permit fees for temporary signs, including election posters and meeting notices, and reduces the distance ad billboards and signs can be from the current 25 feet down to 10 feet.
In a statement Tuesday, Mapp said he agreed with the intent of the legislation, which includes provisions to increase restrictions for billboards on public highways. But he said more changes to the law were needed, including setting appropriate fees for electronic billboards and greater accounting for esthetic issues.
Mapp vetoed a bill (Bill No. 32-0210) that would grant the chair of the Board of Elections the power to determine the distance which electioneering can take place relative to polling sites.
"I have vetoed this bill because I do not agree that the sole discretion to set distances for electioneering should be vested in the chairman of the Board of Elections," Mapp wrote.
"I'm also of two views: concern that voters are at times overwhelmed with electioneering activities when entering a polling station and permitting the free exercise of our democracy to try and sway the voter one last time when they are entering a polling station to cast their ballot. Out of an abundance of caution, I have vetoed this bill and ask that we revisit this issue after the general elections," he continued.
Both bills were approved by the Legislature during an April 4 session. Mapp previously signed most of the legislation approved during that session. Those included:
– An appropriation of $3.5 million from the St. Croix Capital Improvement Fund to pay for dredging in the Schooner Bay Channel, adjacent to Gallows Bay on St. Croix. "The St. Croix Capital Improvement Fund is tapped for many projects," Mapp said in his letter to the Senate notifying it of his actions, calling into question the availability of the local funds.
But he said he believes the territory has convinced the U.S. Department of Housing and Urban Development that dredging will help economic development and so qualifies for some of HUD's Community Development Block Grant disaster funding.
– Mapp also previously signed legislation to appropriate $500,000 from that same fund to pay for "energy efficient retrofitting of the industrial park on St. Croix, which hopes to fund solar power and a micro-grid to reduce energy costs for industrial park tenants.
– He signed changes to criminal law increasing the types and severity of criminal charges that can be made against people charged with "gang-related" crimes. It makes any member of a group that engages in criminal activity and has identifiable signs, symbols or colors and commits any of a wide variety of "predicate"crimes, also separately guilty of felony "gang criminal activity." This charge now carries a penalty of up to 10 years in prison.
"Predicate" offenses include publicly using "any vulgar, profane, or indecent language in a loud and boisterous manner," or damaging a car to steal things from it, as well as more serious offenses such as arson or threatening a juror.
V.I. law now also has harsh penalties for gang members who commit other violent felonies and for recruiting minors into a gang. It also allows prosecutors to add one to three years onto the sentences for other felonies if there is a gang connection.
And police now have broad power to confiscate money and property from gang members and places any confiscated money and any gang-related fine revenues into a fund which, if funds are actually there, can be used for gang prevention programs.
– Mapp also approved changes to the territory's insurance laws to conform to model uniform laws governing how and if premiums are refunded when a person stops paying into a life insurance policy. The changes bring the territory in line with most stateside jurisdictions.
– And he approved legislation mandating the V.I. National Guard to initiate local versions of two educational programs: the Youth About Face and the adult-oriented Forward March program. Both involve job and life skills training and some computer-oriented classwork. It would be under the jurisdiction of the adjutant general. There is no local funding for the local mandate. But when the bill was heard in committee and again during session, Vialet asserted there is federal funding available at the V.I. Department of Labor.
Mapp also approved several zoning changes and coastal zone permits:
– One measure rezones Wharfside Village in Cruz Bay to bring its existing jewelry stores and other businesses into compliance with current zoning laws. The rezoning changes Parcel No. 4-A Estate Cruz Bay Town, Cruz Bay Quarter, St. John, from B-3 (Business-Scattered) to B2 (Business-Secondary/Neighborhood).
WVJD LLC, the company organized by Wharfside's owner Joe DeCourcy, applied for a zoning change for the property in April 2017. In a letter to Senate President Myron Jackson that accompanied the rezoning application, DeCourcy wrote that the application was not submitted as part of any plan to further develop the property beyond existing uses, which include dining, gaming, retail shops, and residential rental units.
– Minor Coastal Zone Permit No. CZJ-20-11W, issued to David McDaniel and Cheryl McDaniel, to use a 153-square-foot floating dock from November through May, seaward of Parcel No. 200-C-2A Estate Fish Bay, St. John;
– Major Coastal Zone Permit No. CZT-2-16 (L&W,) issued to DUN RUN GOLF, LLC, for the continued use and occupancy of the existing reverse osmosis plant with 12-inch diameter, 140-foot intake line and 12-inch, 650-foot long outfall line located at Plot No. C-2-Q Estate Lovenlund, St. Thomas;
– A spot-rezoning of Parcel No. 13AA Estate Contant, No. 2 Cruz Bay Quarter St. John from R-2 (Residential-Low Density-One and Two Family) to R-4 (Residential-Medium Density). The purpose of the request is to develop six one-bedroom dwelling units for long-term affordable housing for island residents.
– A zoning use variance for Parcel No. 171 Estate Contant-Enighed, Cruz Bay, St. John Virgin Islands, to allow Roberto Penha to operate a car rental business.