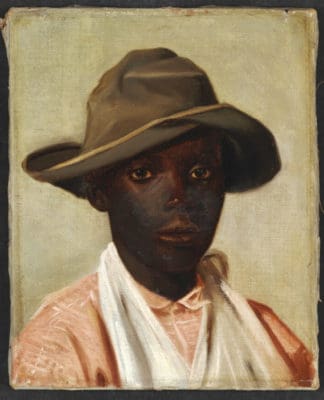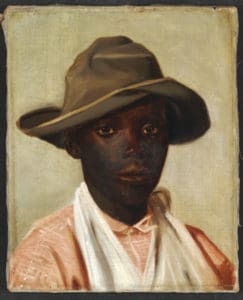 A portrait of a young St. Thomas man painted by the Danish West Indies-born "father of impressionism" Camille Pissarro is about to be publicly exhibited for the first time in London, and will go up for auction in Copenhagen on May 29.
The painting is one of only two known oil portraits Pissarro did before moving to Paris in 1855, according to Danish auction house Bruun Rasmussen. It is believed the portrait dates to the period between 1852 and 1855, when Pissarro was in his early 20s and working at his family's business in Charlotte Amalie.
Pissarro, a St. Thomian of Sephardic Portuguese and French heritage, was prolific during his youth in the Danish West Indies. Most of the work he produced in this period consists of drawing and sketches of St. Thomas people and landscapes. In France, Pissarro went on to become a leading figure in the impressionist movement, which changed the orientation of Western Art.
Pissarro's newly public oil portrait, titled "Portrait of a Boy," has been in a private family collection in Denmark since the 19th century. Pissarro gave it to Hermann Meier Hjernøe, a Danish attorney on St. Thomas who became a member of the Colonial Council. The painting was inherited by his St. Thomas-born son, Carl Christian, who moved to Denmark in 1877.
Bruun Rasmussen describes the painting as "a very fine and empathetic portrait of the boy, who gazes directly at the viewer with a certain degree of calmness and melancholy in his eyes. The boy's face has been carefully worked over with small fine brush strokes, while the shirt is more sketchily done with powerful, quick brush strokes."
Before it goes up for auction through Bruun Rasmussen, "Portrait of a Boy" will be shown at the Danish Embassy in London on May 15 and 16. It has been examined by the Wildenstein Institute in New York and become part of the "Pissarro Digital Catalogue Raisonné."
V.I. art and history enthusiast Valerie Sims, who runs the blog Vintage Virgin Islands, said she became excited when she learned about a "newly-discovered" painting by Pissarro.
"During the mid-1990s, I worked in the Camille Pissarro building [in Charlotte Amalie] and marveled at the red, clay bricks and the history they held. The mortar crumbled, leaving dust on my desk, prompting me often to think of the home's former occupants," Sims told the Source.
She described the portrait as an important part of V.I. art history.
"The boy appears somewhat sad to me, as if his arm has recently been set after a break," Sims said. "It stirs those feelings of empathy towards him and I hope he finds an appreciative home when the auction closes."
Pissarro's pre-impressionist works are well collected in the Virgin Islands. Some collectors have allowed their works to be exhibited publicly in the territory at "pop-up" exhibitions, but the territory has no art museum with a permanent collection to house works by local, regional or international artists.
A major exhibition of Pissarro's drawings done in the Caribbean travelled to St. Thomas in 1996, where they were shown at the Lilienfeld House, an annex of the St. Thomas Synagogue, where Pissarro's family were once members.
The V.I. Government also owns several Pissarro originals, but since Hurricanes Irma and Maria it is not publicly known where they are being stored or how they are being cared for. Government officials say the Pissarro pieces that were once housed at Government House on St. Thomas – two paintings and three drawings – are safe, but have denied access to the press after questions were raised in the media about the post-hurricane condition of the government's art and antiquities.
In May, Gov. Kenneth Mapp hired St. Croix cultural preservationist and collector Julio Encarnacion III as chief conservator of the government's art and antiquities. However, Encarnacion does not have a degree in the field of conservation of art and historical objects, which most institutions require.