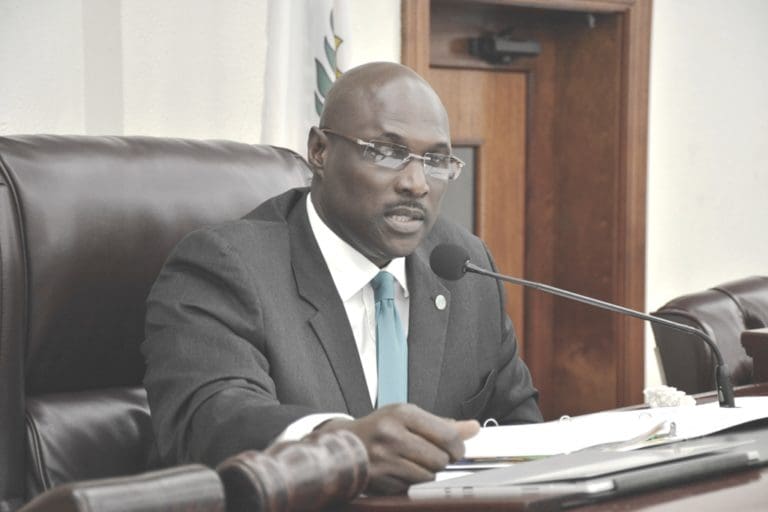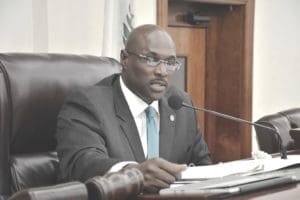 The Rules and Judiciary Committee unanimously approved seven bills at a hearing Thursday, including one that takes its language from a national attempt to standardize human trafficking laws.
The bills will move on to the full senate for consideration.
The committee also held one bill (no. 32-027) without discussion, a proposal to strengthen anti-loitering law that proved controversial at a previous hearing.
All of the bills discussed Thursday were popular with committee members. Sen. Janette Millin Young said she was pleased that several of them "constitute language saying we're protecting the vulnerable."
The human trafficking bill (no. 32-0129) was crafted, with a few changes, from one finalized by the Uniform Law Commission in 2013. The ULC is a national non-profit association that researches, drafts and promotes legislation state and territorial governments can enact.
The ULC's website says the commission drafts legislation "where uniformity is desirable and practical."
If the bill passes, the territory's human trafficking definitions, penalties and victim protection standards will match the nine states where the same law has already been enacted. A tenth state is considering the same legislation.
According to the ULC, human trafficking – often described as modern-day slavery – is the second-fastest-growing crime in the U.S. Only drug trafficking is growing faster.
What ULC's uniform bill does is create a list of legal definitions of trafficking-related crimes, impose felony-level punishments, specify victim restitution and protection, and make resources available for raising public awareness.
The V.I. bill differs from the uniform bill in proposing that human trafficking crimes have no statute of limitations. The uniform law set the statute of limitations at 20 years.
All committee members voted to advance the bill: Sens. Millin Young, Myron Jackson, Jean Forde, Positive Nelson, Sammuel Sanes, Janelle Sarauw, and Novelle Francis Jr. Non-committee members Sens. Dwayne DeGraff, Brian Smith and Marvin Blyden also were present.
The members also voted unanimously on a bill (no. 32-0064) that would mandate an unfunded registry of elderly and persons with disabilities who live alone in the territory.
The registry would be voluntary, and its personal information – including addresses and telephone numbers – would be kept confidential, only given to first responders in case of a natural disaster or other emergency.
A shorter version of the legislation was held in committee in June 2017. In April, bill sponsor Sen. Dwayne DeGraff offered an amendment in the nature of a substitute that further fleshed out the bill. He said September's storms proved how vitally needed the registry is.
The amendment lowered the proposed age of persons eligible for the registry from 65 to 60. It also imposed penalties for any disclosure of personal information for non-emergency purposes: a fine of not more than $500 or less than a year in prison, or both.
If enacted, the proposal would add the registry to the Department of Human Services' powers under V.I. law. When the bill was first heard in committee in 2017 and those affected by it testified on its impact, Human Services officials said they can already create a registry without the change in the law.
Patricia Welcome, legal counsel for Human Services, testified at that time that the department already had this sort of information, "just not in the form of a registry."
The Legislature has a long-established pattern of passing unfunded mandates that often never come to pass due to lack of funding. (See Related Links below.)
If the bill passes, funding is found and the registry is created, Human Services would be directed to submit it quarterly to the V.I. Territorial Emergency Management Agency, V.I. National Guard, Fire Service and other responders. The Bureau of Motor Vehicles and the Election System would assist in gathering information by posting notices about the registry and offering forms.
Also voted on favorably by the committee Thursday was a bill (no. 32-0055) that instructs the Department of Public Works to change all public signs for "handicapped parking" to parking for "persons with disabilities." The bill directs $10,000 from the Transportation Trust fund for that purpose. While a nominal source of funding is named, in reality the V.I. government has a substantial budget shortfall making it unclear whether the funding for the project exists or not.
According to testifier Jamila Russell, the V.I. coordinator for the Americans with Disabilities Act, individuals within the disability rights movement nationally are working to eliminate the word handicapped.
But Russell also said if the signs are mandated to contain specific words, such as "disabilities," they might have to be special ordered and cost the government more money. She suggested the bill simply mandate ADA compliant signs, which may not have uniform wording.
The committee also unanimously approved:
– A bill (no. 32-0179) that aims to better enforce apprenticeship programs within private firms that have government contracts,
– A bill (no. 32-0146) that seeks to name a portion of General Gade after musician and radio personality Irvin "Brownie" Brown, Sr.
– A bill (no. 32-0148) that would establish the month of May as Stroke Awareness Month
– And a bill (no. 32-0170) to honor and commend singer Lorna Freeman.