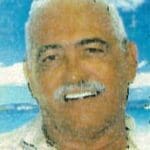 Ramon C. Feliciano, also known as "Papa," of Estate Whim died on May 5. He was 75 years old.
He was preceded in death by his parents: Gregoria and Isaias Feliciano; sister, Ada Feliciano; and brother-in-law, Francisco Luis Santiago.
He is survived by his wife, Maria I. Santiago Feliciano; stepdaughter, Peggy Franco; stepson, Edward "Tuskani" Franco; grandchildren: Ruiz "Chino" Alexandro, Lola Alexandro, Officer Neissa Alejandro, Luis Alejandro, Tito Franco, Shaida Martinez, Shanel Franco and Tuskani Franco; great-grandchildren: Rasheen Allen Jr., Neh'Mara Allen, Sha'Laya Hernandez and Akia Richards; daughter-in-law, Aida A. Franco; and brothers-in-law: Roberto-Bobby Santiago and Raymond Santiago.
He is also survived by sisters-in-law: Noemi Santiago, Debbie Santiago, Thelma Santiago Brewster and Ana Santiago Foots; godchildren: Roberto Figueroa Jr., Rahseen Allen Jr., Neh'Mara Allen, Sha'Laya Hernandez and Akia Richards; and special friends: Officer Nibbs and Anita Nibbs, Emma Ayala Miller and family, Jenny and Tito Santos, Elizabeth Bryan Lopez, Carmen Adams, Mr. and Mrs. Flores, Maria Hernandez and family, Lucy and Davisito Velasquez and family, Samuel Cordero, Mr. and Mrs. Liliana Belardo de O'Neal, Sen. Alicia Chucky Hansen, Fide Belardo, Luz and Edwin "Pumi," and Pastor Belardo and family.
Other survivors include cousins and other relatives: Marisola Gonzalez family, Marcos, Julio Belen Gonzalez, Carlor Juan Jr., Josefina Ramons, Mary Ramos, Tamara, Ronnie, Tupi, Eddie, Ali, All Gonzalez Family Sion Farm, Human Services Senior Citizen Affairs, Tracy Sanders, Joey Bermudez and the staff of Continuum Care, and Sindy Joseph of Turning Point Senior Care; as well as other friends, cousins and relatives too numerous to mention.
There will be a viewing at 9 a.m. followed by a funeral service at 10 a.m., Tuesday, May 15, at James Memorial Funeral Chapel, Le Grande Princesse. Interment will follow at Frederiksted Cemetery.