Chief Judge Wilma A. Lewis of the District Court of the Virgin Islands will deliver the 2018 commencement address at Penn State Law on Saturday, May 12, in University Park.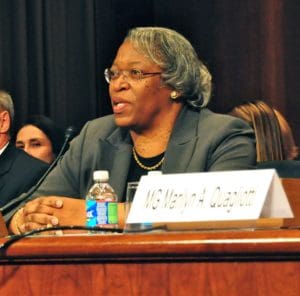 Nominated for the court by President Barack Obama on March 2, 2011, Judge Lewis was confirmed by the Senate on June 30, 2011, and became the first woman to serve as a federal district court judge in the United States Virgin Islands. She became chief judge in August 2013.
Judge Lewis, who hails from the Virgin Islands, earned her bachelor's degree, with distinction, from Swarthmore College in 1978 — where she was elected to Phi Beta Kappa — and her J.D. from Harvard Law School in 1981. She worked in private practice as an associate at Steptoe & Johnson in Washington, D.C., until 1986, when she joined the U.S. Attorney's Office for the District of Columbia, ultimately becoming deputy chief of the Civil Division.
In 1993, Judge Lewis joined the Department of the Interior as an associate solicitor. In 1995, after being nominated by President Bill Clinton, the Senate confirmed her as the inspector general of the Department of the Interior, making her the first African American to hold that position. Then, in 1998, Judge Lewis was nominated by President Clinton and confirmed by the Senate to serve as U.S. attorney for the District of Columbia—the first woman to hold that position. She served as U.S. attorney until 2001 when she returned to private practice as a partner at Crowell & Moring in Washington, D.C.
After serving at Freddie Mac as managing associate general counsel for litigation from 2007 to 2008, Judge Lewis returned to the Department of the Interior in 2009 when President Obama nominated and the Senate confirmed her to serve as assistant secretary for land and minerals management, overseeing the Bureau of Land Management, the Minerals Management Service, and the Office of Surface Mining Reclamation and Enforcement.
For approximately 15 years, starting in 1993, Judge Lewis also served as an adjunct faculty member in trial advocacy at the George Washington University Law School.
Judge Lewis, a fellow of the American Bar Foundation and member of the American Law Institute, has been the recipient of numerous awards and commendations. She has served on various boards and commissions, including the District of Columbia Judicial Nomination Commission, the Advisory Committee on Local Rules for the U.S. District Court for the District of Columbia, the Board of Directors of the Washington Lawyers' Committee for Civil Rights and Urban Affairs, the Board of Visitors of Howard University School of Law, and the Board of Managers of Swarthmore College.
She has also served as chair of the District of Columbia Board of Elections and Ethics, chair of the Board of Trustees of the Moravian Theological Seminary, and president of the Board of Trustees of Faith Moravian Church of the Nation's Capital.