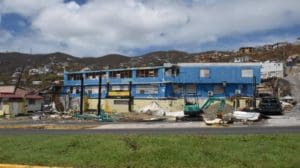 Lt. Gov. Osbert Potter, the territory's Insurance Commissioner, said Tuesday that about 75 percent of property claims arising from September's two hurricanes now have been closed, most them with payments to policy- holders, and the numbers suggest a wide disparity in the impact of each storm.
On a related topic, Potter said he might consider raising or eliminating the cap on insurance adjuster fees as a potential way of speeding up claims processing.
As of April 15, Hurricane Maria-related payments total $319.6 million. The total from Irma, as of the same date, was $906.8 million, or nearly three times as much.
Potter said his office keeps records by storm, not by district.
"Of course, there's crossover," he said, but as is well known, Irma particularly devastated St. Thomas and St. John, while Maria's primary victim was St. Croix.
Of 6,400 Maria claims, almost 5,000 have been closed, Potter said. Of 10,000 Irma claims, about 8,000 have been closed.
Noting that many of the outstanding claims are nearing the end of processing, Potter said he thinks most all 2017 storm claims will be closed by the end of this month.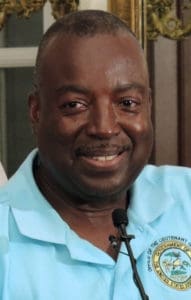 Meanwhile, he said, his office's Banking and Insurance Division continues to get complaints from residents that some carriers are slow to respond to claims. In most instances, his office tries to work with insurance companies and the insurance adjusters involved to address specific complaints.
In "less than 10" cases – including one highlighted in a Source story Monday – Potter has issued a citation or "order" penalizing an adjuster for what he charges are infractions of the law or insurance regulations.
One bone of contention has been the amount of money a public adjuster – one hired by a policy holder as opposed to one working for an insurance company – can charge for his services. Current V.I. regulations state that a public adjuster cannot receive a payment that exceeds five percent of the amount an insurance carrier pays the policy-holder.
The vast majority of states that cap adjuster fees do so at the level of 10 percent and a few at even higher rates. And more than half of states have no limit at all. A policy-holder is not required to hire a public adjuster, but many do so in order to have their own advocate when dealing with an insurance carrier.
The territory's cap was imposed in 1995, when Gov. Kenneth Mapp was then the Lieutenant Governor/Insurance Commissioner.
The purpose, Potter said, was to protect consumers who chose to hire an adjuster. He issued a statement in October, soon after Irma and Maria, confirming the cap was still in effect. In the statement he noted that some residents had called his office asking that it be raised.
At least in theory, the more adjusters are working in an area, the faster claims can be processed.
Tuesday Potter said there were some people on St. John who thought that loosening the cap would help bring more adjusters to the islands, especially with the lure of higher end properties. There also are "some attorneys" who advocate the total elimination of the cap, Potter said.
"I don't have a problem looking at that as a discussion point," the lieutenant governor said. "It's something I'm open to listening to" with an eye toward making a change before the next hurricane season. However, it's not clear that changing the cap will bring in more adjusters.
Asked if he believes the cap made a difference this time, Potter said, "I don't think it has."