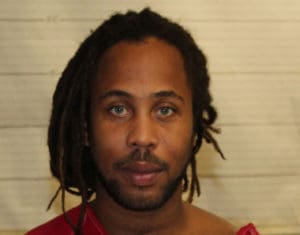 When Nathaniel Thomas escaped from Golden Grove Adult Correctional Facility on St. Croix in March, he had help, according to two affidavits filed in U.S. District Court.
Thomas, who also goes by Jahreek, J, Ringo and R, was convicted in March of unlawful possession of a firearm and reckless endangerment. The charges stem from him reportedly shooting at the occupants of a silver Ford Explorer at 4:26 a.m. May 15, 2016, at Diamond Crest Plaza on St. Croix. He has a prior marijuana-related felony which made it unlawful for him to possess a firearm.
On March 15, two days after his conviction, he escaped from Golden Grove prison on St. Croix and remained at large for several weeks, until his arrest in Puerto Rico in early April.
When he first went missing, Supervisory Deputy U.S. Marshal Michael Picou said Thomas apparently ran and managed to get through the fence around the facility, based on information provided him by V.I. Bureau of Corrections officials. But Picou described a slightly different scenario in a March 16 affidavit.
"Information obtained from Golden Grove indicates that Thomas escaped the facility at 7:47 p.m. with the assistance of two unidentified individuals who entered the facility without authorization," Picou wrote.
Another affidavit, filed by Deputy U.S. Marshal Gerald Messier, also says two unidentified individuals entered without authorization and helped him escape.
How unidentified individuals entered is unclear. When a Source reporter entered Golden Grove for a story several years ago, visitors had to present themselves to a camera and glass window, whereupon a guard unlocked the exterior door remotely. Once inside the main door, a guard had to again remotely unlock a second door to enter the facility. Otherwise, to all appearances, the only other way in or out would require going over, under or through a 10-foot high chain link fence.
The court documents say only that there were two individuals helping and that they are unidentified.