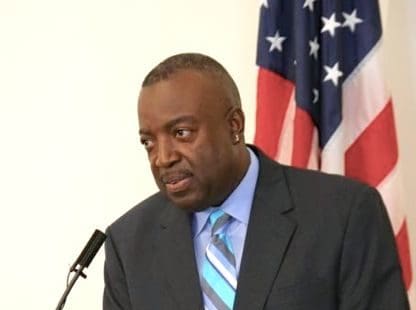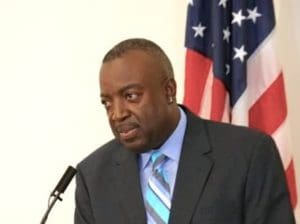 Lt. Gov. Osbert Potter, through the Banking and Insurance Division he oversees, is enforcing the territory's cap on fees that insurance adjusters can charge residents for helping them process insurance claims, limiting it to no more than five percent of the amount recovered.
In an order dated April 18, Potter cited New York-based Anton Adjustment Co, Inc. and its principle Joseph Anton for attempting to charge St. Thomas residents Daniel and Maraguerite Roseberry a fee of 10 percent of the insurance payment he helped them negotiate with their insurance carrier, Real Legacy, for damage to their home by Hurricane Irma. According to documents shared by their attorney, Jeffrey Weiss, the Roseberry's got a settlement offer of $263,710.44 for their house and another $5,000 for contents.
Also according to those documents, Anton Adjustment Co. contends that it had a valid contract with the Roseberrys, calling for a payment equal to 10 percent of the money recovered from the insurance company. The company claims the Roseberrys raised the issue of the cap simply to avoid payment.
The company can appeal the order, but Petra Matthew, special assistant to Potter and spokeswoman for his office, said Monday that Banking and Insurance is unaware of any appeal.
Attempts to reach Joseph Anton for comment were unsuccessful. A woman who identified herself only as "Donna" – a name listed on the company website as its contact – last week returned a message left with a receptionist seeking comment from Anton. She questioned the newsworthiness of the order but did not respond to questions about it.
The order also states that Anton Adjustment did not have a license in the territory when it contracted with the Roseberry's. According to the documents, Anton applied for a V.I. license on Sept. 28, 2017, and made its contract with the couple on Sept. 29, but the government did not issue the license until March 15.
In his order, Potter fined Anton $5,000, voided any and all contracts it entered into with customers in the Virgin Islands, and ruled it is not eligible to conduct business within the territory for at least one year from the date of the order. Further, the company must supply Banking and Insurance with the names of any other customers it had in the territory and it must "disgorge" to the division any money it has collected from any such customers above the five percent cap.
The Virgin Islands established the five percent cap in 1995, following Hurricane Marilyn. In October 2017, Potter issued a press release saying the cap was still in place.
There are three types of insurance adjusters: ones that work directly with a carrier, independent adjusters who contract temporarily with an insurance carrier (typically when there a great number of claims to be processed because of something like a natural disaster) and public adjusters, who offer services not to insurance providers but rather to policy-holders.
Policy-holders do not have to hire an adjuster, but many do to speed up claim processing and/or because they believe a public adjuster will get them a better deal from their insurance carrier than the carrier's adjuster would recommend.
On-line research reveals that more than half of the states in the U.S. do not impose any limit on the amount a public adjuster can charge a customer; they leave the fee up to the two parties. In those states that do cap fees, 10 percent of the recovery amount is the overwhelming standard.
The territory's relatively low rates do not seem to be discouraging public adjusters from working in the Virgin Islands, however.
Before Hurricanes Irma and Maria struck in September 2017, there were 58 licensed public adjusters – those who work for a policy-holder – in the territory, according to Matthew. Now there are 121.
The number of adjusters who work for insurance companies – and are not affected by the cap – has also increased.
Before the storms there were 93 resident and non-resident adjusters working directly for insurance companies serving the Virgin Islands, Matthew said. As of a week ago, there were 115. The most dramatic rise in numbers involves independent adjusters who contract with insurance carriers to help out short-term in times of great need. There were none in the territory when the storms struck. Now there are 256.