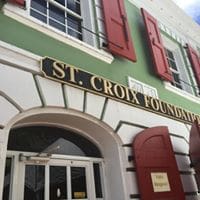 St. Croix Foundation (SCF) for Community Development has announced over $275,000 in grant awards to St. Croix nonprofits. As a critical component of its Hurricane Recovery CARE Fund, SCF is awarding strategic grants to support a holistic recovery for St. Croix. Recognizing the critical service gaps that St. Croix nonprofits are filling with scarce philanthropic support and limited local governmental funding, grants were awarded to St. Croix-based nonprofit organizations and charitable initiatives that offer programs and direct services targeting the most vulnerable and underserved populations affected by hurricanes Irma and Maria.
Projects with efforts that span from afterschool programs to community revitalization initiatives were funded through this first cycle of grants.  Grants ranging from $7,500 to $50,000 were awarded to the following organizations: AZ STEM Project, Boys and Girls Caribbean Center of the Virgin Islands, Choices Basketball Camp, Christiansted Lighthouse Mission, Caribbean Museum Center for the Arts, Cruzan Cowgirls Horse Rescue, St. Croix Walls Project, Frederiksted Health Care, Men's Coalition of the VI, Onyx Opera, Good Hope Country Day School's Summer Theatre Camp, USVI Soccer Association, VI Perinatal and the St. Croix World Ocean School.
According to Executive Director Deanna James, "St. Croix Foundation is committed to advancing a conversation around real equity in how investments are being made."
Emphasizing the importance of nonprofits in the territory's recovery efforts and in the philanthropic response to the disaster, James said, "St. Croix Foundation has developed a set of standards and criteria that ensure the most underfunded organizations are prioritized. It's a formula the Foundation is advocating for from all policymakers and philanthropic entities."
With eight of 13 public schools closed on St. Croix, a compromised health care system, and 60 percent of blue roof tarps in the territory located on St. Croix, priority was given to nonprofit organizations who are filling in vital gaps in health and human services, education and the arts.  The foundation has also dedicated significant resources to nonprofits that are leveraging their work and resources for greater impact through collaboration with a partnering organization.
Grantees will have to adhere to strict reporting guidelines to ensure the highest degree of accountability and focus in meeting goals and timelines. Reporting is also strategically designed to allow SCF to collect further data on the nonprofit landscape and the community's needs for services that, in turn, assists the foundation in developing its own programmatic agenda including how to advocate for and assist nonprofits far beyond grantmaking.
Launched immediately following the recent hurricanes, the CARE (Caribbean Assistance and Relief Effort) Fund is providing direct support to both front-line relief and long-term recovery efforts on St. Croix and throughout the U.S. Virgin Islands. Through the CARE Fund, SCF is doing what they do best: supporting a holistic approach to community development while also ensuring real equity for St. Croix and resilience for the territory.
To date, the CARE Fund has coordinated and sponsored the shipment and distribution of approximately 250,000 pounds of relief aid; provided free temporary office space to over 15 NGOs displaced by Hurricane Maria including the Boys and Girls Club and the Domestic Violence and Sexual Assault Council, which are now being permanently housed at SCF; conducted critical needs assessments and surveys of residents and nonprofits; and is also serving as the fiscal sponsor for the St. Croix Long Term Recovery Group (LTGR) at no fee.
St. Croix Foundation extend its sincere gratitude to the countless national foundations, corporations and individual donors who have made the CARE Fund and these grants possible, which include W.K. Kellogg Foundation, JPB Foundation, AARP, Johnson & Johnson, Miami Foundation and Newman's Own Foundation. All of them have given first time grants to the territory to support St. Croix Foundation's work.
St. Croix Foundation invites donors and community partners to contact it at 340-773-9898 or www.stxfoundation.org  for more information on how to support the foundation's rebuilding efforts and the CARE Fund.