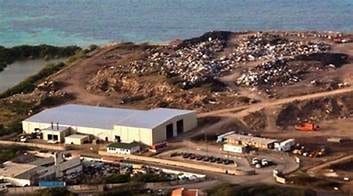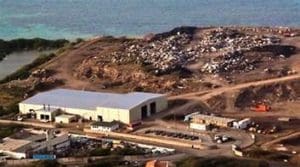 Putting in place a solid waste management plan and strategy to tap into millions in federal funds made available to deal with local health and safety issues is key to getting the territory out of response mode and on better footing for future disasters, Environmental Protection Agency officials said Monday while touring the islands.
Since October, EPA has mostly been working in conjunction with the Federal Emergency Management agency to respond to issues ranging from wastewater management to solid waste removal. EPA Region 2 administrator Pete Lopez said Monday the agency has now transitioned into a recovery phase where it can also begin dialoguing with local leaders about the future.
Lopez joined other regional and local officials for a tour Monday morning of the territory's landfills and visits to wastewater treatment plants that led to a brainstorming session about "long term issues and needs, and how we ensure the strategy moving forward is both efficient and sustainable, and environmentally sound."
With both landfills operate under EPA consent decrees, solid waste management was an issue before the storms, Lopez said. The conversation with Waste Management now, he added, is how to deal with the debris still lingering from the hurricanes and then, what long term goals can be put in place to expand to different sites and divert different waste streams to markets off-island.
Speaking about the more than 750,000 cubic yards of storm debris still piled at the dump and other sites around St. Thomas, officials said chipping, mulching and offshore disposal were options presented in conversations with Waste Management. Looking forward, the next step is to work with the territory to identify how to deal with what's expected if another hurricane does hit, Lopez said.
Meanwhile, Lopez said, a looming deadline for the Bovoni landfill to stop accepting trash is flexible, provided that the local government has a plan in place to deal with future waste, but revealed that there is extra capacity at the dump.
"The understanding that they are reaching capacity, but don't believe they are full yet," he said. "They have time and some other plans in place to give more time. What we've done from our region is we have recently approved a regulatory structure that allows them to build more capacity … then, they can build more facilities to protect certain standards of health."
In the short term, he explained, plans are in place to expand to other sites that are properly managed, have liners and can control groundwater, and, while the dump will have to close, the government can't just stop accepting trash. EPA will be firm on the consent decree, but also offer guidance about how to move forward, he said.
"This has to be a local decision," Lopez added. "None of us are interested in coming from away and saying do this or do that. We're not interested. Our goal is to determine what the needs are and how can we provide you with the best path forward and resources to support."
Meanwhile, the roll out of a new solid waste permitting program under Planning and Natural Resources is underway to secure the construction of new sites, but even that needs an approved plan and forward thinking about what materials can be separated out from the solid waste stream to reduce volume. Recovery dollars under the newly signed federal budget bill are available for such programs, but getting the money and accounting for it also requires a plan, officials said.
"And all of that is thousands of conversations, hours of fact finding and research, packaging proposals and bidding and awarding contracts," Lopez said. "This isn't like flipping on a light switch. It's a journey so all of us have to be patient with each other as we figure things out."