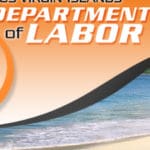 Commissioner of Labor Catherine A. Hendry Esq. invites employers, not for-profit organizations and training service providers to participate in this year's Summer Youth Work Experience and Training Program through the V.I. Department of Labor (VIDOL). VIDOL is seeking the following:
 Employers and agencies that are interested in providing a five-week work experience and job-training activities for youth ages 16-24
 Service providers and organizations interested in providing life skills and career exploration activities for youths, ages 14-15 (programs should run for no more than four weeks. Mini-grants of up to $4,800 are available for qualified providers).
Interested employers and organizations can obtain a "Request for Summer Youth Work Experience Program Participation" or "Summer Youth Workshop Application" by contacting VIDOL offices on St. Thomas at 776-3700, ext. 2080, on St. Croix at 773-1994, ext. 2144 or by visiting www.vidol.gov (under the forms tab). Applications can also be picked up at the VIDOL St. Thomas and St. Croix location.
The deadline to apply is May 18.