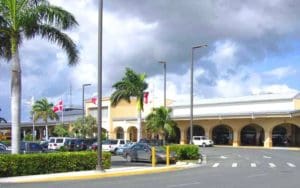 Facing a possible $85 million in hurricane damages, the V.I. Port Authority board worked Wednesday to make a dent in its list of repairs, approving more than $10 million in projects completely covered by insurance funds.
Topping the list at $8.5 million was a new roof for St. Croix's Henry E. Rohlsen airport, which VIPA staff will take approximately nine months to complete. The project involves strengthening the roof, which will move from a single-ply membrane to a two-ply roof, and the installation of standing seam and metal panel siding.
Lemartec, Inc., the same contractor that was approved months ago for a master contract with VIPA, will be taking on the roof replacement of VIPA's administrative building, which will also be strengthened, officials said.
In executive session, the board also approved a change order for roof repairs at Cyril E. King Airport on St. Thomas. The project was initially estimated to cost $10 million, but the change order approved Wednesday was for approximately $10.5 million. The difference in price allows for the possible addition of a third floor at CEKA, which VIPA Executive Director David Mapp said Wednesday is not structurally possible at Rohlsen.
A $1.8 million contract with Custom Builders for the design and installation of four new energy efficient 200-ton chillers at Cyril E. King terminal was also approved.
In other news, the board:
– approved $60 million in insurance coverage at a cost of $3.5 million,
– approved the transfer of all Crown Bay Center leases to the VIPA Legal and Property Management Department,
– approved a new lease for Wilfred Turnbull to sell local food items produced from coconuts, local spices and drinks. Turnbull is leasing 1,200 square feet of land in Crown Bay for five years with a three-year option to renew at $6,000 per year, and
– approved new language to be added to a proposed lease with Red Cap porter services; the lease includes kiosk space in arrivals and baggage claim, along with space to store baggage carts, among other things.