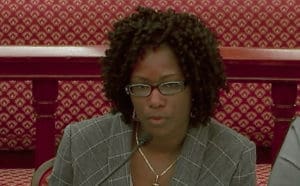 The V.I. Waste Management Authority made a partial payment to Veolia, the company that built and runs St. Croix's Anguilla and St. Thomas' Red Point wastewater treatment plants, staving off, for now, the risk of the plants shutting down.
On March 12, Stephen Kruger, Veolia's senior vice president of operations for its southern division, wrote V.I. officials threatening to cut off service over an outstanding balance of more that $4.669 million. He said the territory had not made a "meaningful" payment in more than a year and a half and the V.I. government has not engaged and recently "adopted a strategy of completely avoiding Veolia's phone calls, emails and letters."
"Veolia intends to terminate the Service Contracts if GVI does not pay the amount to Veolia within the 30-day cure period." Kruger said.
During a senate committee hearing Monday, Sen. Janelle Sarauw asked WMA's interim Director Tawana Albany Nicholas about the reported debt and why it got so out of hand.
"I can't really speak to the why," Nicholas told the Housing, Public Works, Waste Management and Planning Committee. "I can acknowledge that, yes, we do have a large outstanding balance. We have made a recent payment to them. We are in communication with them to try and come up with a payment plan," she added.
"So we have plans to pay them and are they still providing services to this government as we speak"?" Sarauw asked. Nicholas said yes they were working on a plan to pay and Veolia is still providing services.
The crisis has been brewing for several years. (See Related Links below.) In July 2016, then-acting WMA Executive Director Steve Aubin told senators the authority already owed contractors a combined $10 million for wastewater treatment and for baling at St. Croix's Anguilla Landfill.
Without more funding, contractors might stop working, Aubin said. At that time WMA was budgeted $3 million per year for sewage treatment but the actual funding was less than appropriated.
In 2016, the fund already had a negative balance of $5.7 million and so only half the fees have been given to WMA; the other half go to pay off the negative balance. The shortfall "has contributed to delayed payments to the authority's primary wastewater contractor,Veolia, which operates the " Aubin said.
Since then, the territory had a $110 million budget shortfall it planned to fill with borrowing, but the government has been unable to borrow on the private market. Gov. Kenneth Mapp's administration cut budgets and budget allocations to meet existing cash flow. Then the storms hit last fall, increasing costs, reducing tax revenues but also opening up large amount of federal and other spending in the territory and federal disaster loans. Recent revenue figures posted by the Internal Revenue Bureau show a smaller than anticipated drop in revenues – which still leaves a large deficit that may be only partially filled with federal disaster loans. The territory tried to borrow more than $300 million, with $250 million to help the budget, but the federal government initially only disbursed $85 million with $65 million for the central government's budget; an amount considerably less than the most recent budget shortfall projection.
Last year's storms damaged WMA infrastructure and stretched the authority's already thin resources, Nicholas told senators. The federal government will reimburse WMA for a lot of its storm-related costs- but it has to pay for the work and then seek reimbursement, she said.
"The hurricane recovery efforts have caused an additional burden on our already stretched operational budgets where we are late on paying our regular and emergency contractors," Nicholas said.
Complicating matters, while recovering from the storms "some of the supporting documentation for several invoices were overlooked," she said. They have hired accounting firms Witt O'Brien's and also Ernst and Young to help with documentation, she said.
Anticipating federal reimbursement for recovery costs, the Finance Department loaned WMA money to help pay some emergency work contractors. But the balance sheet is very red. As of April 12, WMA had racked up about $5.6 million in receipts for emergency work contracts, Nicholas said.
Of that, almost $600,000 has been paid and almost $950,000 is scheduled to be paid, according to Nicholas. That leaves nearly $4 million in emergency work contracts awaiting federal funding for payment.
Sen. Janette Millin Young asked about past-due invoices to trash haulers. On several occasions over the past year, haulers have paused or threatened to pause work due to past due invoices.
Like Veolia, haulers have received partial payment and are still owed money, according to Nicholas.
In other WMA business, temporary bin sites on St. Thomas have closed and house-to-house services have resumed. On St. John, the bin sites are still open. Contractors are dispatched to sites where solid waste is placed at stations where the temporary bin sites were removed.
Public Work and the Department of Planning and Natural Resources also updated the senators on post-storm progress. Public Works collected debris on St. Croix and the Army Corps of Engineers oversaw the work on St. Thomas. All in all, about 876,000 cubic yards of debris was collected from the right-of-way territory-wide by the March 8th deadline for 100 percent reimbursement. Of that, about 720,000 cubic yards of vegetative debris. In the St. Thomas-St. John District, there were 200,000 cubic yards of vegetative debris and on St. Croix almost 600,000 cubic yards of vegetative debris.
The Bovoni Landfill is effectively full and both landfills are to be shut down so the debris cannot go there.
"If you are not able to put the debris in the landfill, what then?" Young asked. Public Works officials said they are working on a plan. Most of it is still reimbursable by the federal government under a 90 percent federal-10 percent local cost share, officials said.
The committee later voted on a bill regarding parking signs and a minor coastal zone permit.
The parking-sign bill, sponsored by Young, would require the territory to change all public signs for "handicapped parking" to parking for "persons with disabilities." It appropriates $20,000 to pay for the change. The government is currently in a severe budget shortfall, calling into question whether the money will be available to spend on this priority.
Police Commissioner Delroy Richards and other testifiers supported the change in the language, funding permitting. Advocates for the deaf and hard of hearing urged the territory to also train police on better procedures and practices for working with the deaf and hard of hearing community.
Stephanie Brown, a V.I. resident who is deaf, told the committee about the difficulties the deaf and those with limited hearing face dealing with police after a traffic accident. Richards agreed more training and discussion with officers would be valuable.
Brown and Camellia Williams of the Virgin Islands Deaf and Hard of Hearing Advocates both urged the territory to adopt a widely used window card that will communicate to police and others that a driver is deaf or hard of hearing.
Voting to send the bill out of committee were: Young, Sarauw, Sens. Neville James, Sammuel Sanes and Brian Smith. Sens. Alicia "Chucky" Hansen and Marvin Blyden were absent.
The committee also sent on a minor coastal zone management permit for continued use of a pier and ramp on Water Island owned by William Shea. The permit is for 20 years. DPNR will charge rent of $1,800 per year with a provision for increases to the rent after six years.
Voting to send the permit on were: Young, James, Blyden, Sanes and Smith. Absent were Hansen and Sarauw.