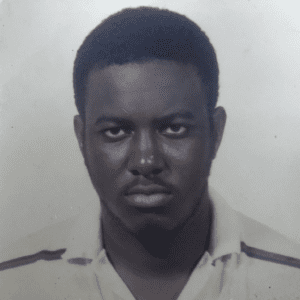 Troy Johnson of Estate Two Williams died on March 17. He was 48 years old.
He was preceded in death by his mother, Rita Wilson-Phillips; father, Roland Johnson; grandmothers: Ena Francis and Leona Johnson; grandfathers: Alexander I. Wilson and Walter Johnson; aunts: Rose Johnson, Gloria Ross, Valarie and Juliette Wilson; and uncle, Ancelmo Wilson.
He is survived by his brothers Alvin and Winton Philips, Rodell, Rodney and Randall Johnson; sisters: Reneé Jackson Renise, Rhisa, Astrid, and Rhea Johnson; nieces: Saiedah Phillips-Johnson, Aneesa, Blessing, Hai'Le, Hadiya and Semoya Phillips, Nacoya, Reniqua, ReAnn, and Aleiya Johnson and Delani Georges; and nephews: Hashma, Hashim, Ha' Shaii, Hasani, Phillips, Syeed and Taheem Phillips, Dequan Auguste, Jaheem Francis, Rashawn and Raiden Johnson.
He is also survived by great nieces: Alaysia Johnson, Tahliyah and Tahmia, Phillips, A'jaydah Auguste, Jaylah Francis and Renecia Johnson; great nephews: Antwon and A'zai Johnson; aunts: Ada Granger, Doris Petersen, Corliss Nathaniel and Unita Georges; uncles: Alexander Wilson, Elroy Harrison, Rafael Johnson and Theodore Jackson; special cousins: Tiesha Ballantine, Nicole Nathaniel, Marisa Wilson and Ingrid Burton; and godparent, Lauralleen Knight.
Other survivors include extended family: the entire LaVallee Community, Laurleen Knight and family, Wilbur Abramson and family, Alice Lang and family, Gregory Francis and family, Demaris Mann and family, Janet Jackson and family, Evelyn Herbert and family, the Christian family and the Cornelius family; special friend, Julie Biberman; friends: Ann Doute, Patricia Forup, Jean Ross, Lydia Thomas, Catherine Braham, Doreen James, Glen Webster, Dr. Sheryl Heron, Boniface Thomas and Floyd Jackson Sr.
Acknowledgements: Juan Luis Hospital Dialysis Unit Staff, Lord God of Sabaoth Lutheran Church, Grady Memorial Hospital, Emery Hospital, Reliance Nursing Care, Davita Dialysis Center (Marietta, Ga.), Dr. Kann, Randall "Doc" James Horsemen and the Vitran staff; as well as other relatives and friends too numerous to mention.
There will be a viewing held at 9 a.m. followed by a funeral service at 10 a.m., Monday, April 23, at Lord God of Sabaoth Lutheran Church, Christiansted. Interment will be at Kingshill Cemetery.
Burial arrangements entrusted to James Funeral Home.