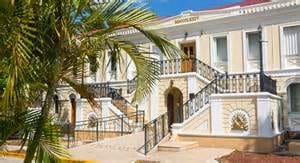 Senators approved a slew of bills changing V.I criminal laws, insurance laws and mandating the National Guard to run programs purportedly with federal funding, during a busy session April 4.
The Legislature also approved several board and commission nominees, an array of zoning variances and Coastal Zone Management permits, cut physician's gross receipts taxes and added and more than $4 million in new spending, although the territory is in the midst of a severe budget crisis. Those legislative actions are covered in other stories in the Source.
The most controversial legislation was a measure, sponsored by Sen. Sammuel Sanes, to increase the types and severity of criminal charges that can be made against people charged with "gang-related" crimes. If signed into law, the measure would make any member of a group that engages in criminal activity and has identifiable signs, symbols or colors and commits any of a wide variety of "predicate"crimes also separately guilty of felony "gang criminal activity." This charge would carry a penalty of up to 10 years in prison.
"Predicate" offenses include publicly using "any vulgar, profane, or indecent language in a loud and boisterous manner," or damaging a car to steal things from it, as well as more serious offenses such as arson or threatening a juror.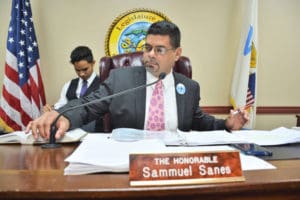 It also has harsh penalties for gang members who commit other violent felonies and for recruiting minors into a gang. It also allows prosecutors to add one to three years onto the sentences for other felonies if there is a gang connection.
The bill also gives police broad power to confiscate money and property from gang members and places any confiscated money and any gang-related fine revenues into a fund which, if funds are actually there, can be used for gang prevention programs.
When the bill was considered in committee in February, Attorney General Claude Walker said the bill needed to be written in a way to not infringe on people's right of free association.forbid to V.I. law.
Ultimately, 10 of 15 senators voted in favor of the measure.
Those who opposed it all raised concerns about over criminalizing the territory's youth.
"Everyone who gathers together is not a gang," Sen. Positive Nelson (ICM-STX.)
He and others also raised the specter of harmless groups, like social fraternities, being harassed too.
"Let's stop criminalizing these guys," Sen. Brian Smith (I-At Large) said.
Others pointed to the territory's high level of violent crime and problems with intimidation of jurors and fear and malice in neighborhoods and schools.
Sen. Janelle Sarauw (I-STT) brought up her experience working with youth in sports, saying she and others involved with youth see the influence of gangs.
"The gangs are real. We can see the signs on their books" in school, Sarauw said. "This bill is a good bill. At some point the politics has to stop," she added.
Voting against the gang bill were: Nelson, Sens. Tregenza Roach (I-STT) Alicia Hansen (I-STX) and Janette Millin Young (D-STT).
Another bill, from Sen. Nereida Rivera O'Reilly, would reconstitute the board of veterinary licensure as a seven-member appointed body comprised of veterinarians, veterinary technicians, and representatives from animal care non-profits. The board's duties would be expanded to include: setting standards for veterinarians' continuing education, licensing of veterinary technicians in addition to veterinarians, and inspection of animal care clinics and centers. Medical professionals testified in committee that the law had not been updated since 1971 and the changes would be helpful.
But in July, representatives of the territory's medical licensure boards told senators that many of the boards lack enforcement ability, and new members are hard to come by due partly to the territory's small pool of specialists and partly to membership being a demanding volunteer position.
When this bill was heard in committee, some said the newly-constituted board would need more resources to operate effectively.
Senators also passed a bill from Sen. Kurt Vialet (D-STX), mandating the V.I. National Guard to initiate local versions of two educational programs: the Youth About Face and the adult-oriented Forward March program. Both involve job and life skills training and some computer-oriented classwork. It would be under the jurisdiction of the Adjutant General. There is no local funding for the local mandate. But when the bill was heard in committee and again during session, Vialet asserted there is federal funding available at the V.I. Labor Department.
Another measure approved last week changes life-insurance law to conform to model uniform laws governing how and if premiums are refunded when a person stops paying into a life insurance policy.
Senators passed a bill from Sen. Myron Jackson to ban digital and animated billboards. It also abolishes the exemptions from permit fees for temporary signs, including election posters and meeting notices. And it reduces the distance ad billboards and signs can be from the current 25 feet down to 10 feet.