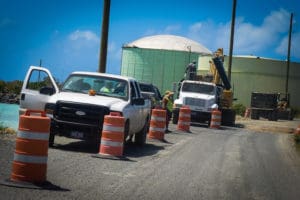 Gov. Kenneth E. Mapp has approved contracts for four more road projects on St. Croix. The projects, which will be completed by VI Paving and VIAPCO, are expected to vastly improve road conditions on the big island.
The plans for Melvin Evans Highway include pavement rehabilitation and safety improvements from East Airport Road to the Estate Profit intersection. The project includes construction, surveying and staking, soil erosion control, removal of guard rails and concrete paving, according to a press release from Government House.
Two roads in Frederiksted are slated for improvements: the street adjacent to the Walter I.M. Hodge Housing Community and the Queen Mary Highway (Route 70) in the vicinity of Armstrong Ice Cream.
Extensive repairs will also be made in the Estate La Grande Princess neighborhood in Christiansted.
Gov. Mapp said rehabilitating and rebuilding the territory's roads remains a high priority of the administration.
"I urge the public to proceed with caution while work is being performed in these areas," he said.