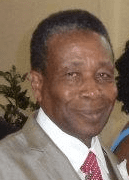 Ivan Egbert James, 79, died on Monday, March 26, in Duluth, Ga. He was 79 years old.
Born in Roseau, Dominica, to Veronica Charles and Harold James, Ivan lived most of his life on St. Croix with his loving wife and kids. He worked at Hovensa with subcontractors Litwin, IMC, C&C and Triangle Construction until retirement in 2011. Upon retiring, Ivan filled his days at home doing what he loved best: planting fruit trees and vegetables in his garden, affectionately known as the "Garden of Eden."
Ivan is survived by his wife Magdalene "Judith" James of 47 years (57 years together); daughter, Alison James; sons: Egbert James, Hughbert James and Michael James; daughters-in-law: Michelle Stephen James and Ashley March; grandchildren: Dominique James, Dominic James, Chelsei James and Simone James; grandbabies: Stella James and Diamond James; brother, Reynold P. Bunche; sister, Meryl James; nieces and nephews: Ashel Bunche, Ava Gaunt, Glenda Wright, Vernon Hector Jr. and Cedric Hill; goddaughter, Cheryl Joseph; sisters-in-law: Monique Hector and Rosemary Bunche; brother-in-law, Alganon Hill; in addition to family and friends too numerous to mention.
Ivan was preceded in death by his parents: Veronica Charles and Harold James; sister, Ruphine J Hill; brothers: Fitzroy Shillingford, Egbert James and Vernon Hector Sr.; and grandbaby, Baby Snuggles James.
A viewing will begin at 9 a.m. followed by a funeral service at 10 a.m., Friday, April 13, at St. Ann's Catholic Church on Barrenspot Hill. Interment will immediately follow at Kingshill Cemetery.