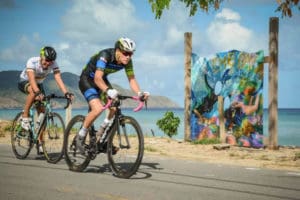 The Virgin Islands Cycling Federation (VICF) hosted the Gladfelter Challenge on Sunday morning. This year there was a new road hazard on the east side of the course on St. Croix's North Shore Road, and race organizers were forced to shorten the lap distance, which also removed the challenging Rust Op Twist Hill, ultimately changing the strategy of the race.
The Elite Category stayed together until the fifth lap of their 7-lap race. The group broke apart further in the sixth and seventh laps, with Dominic Pugliese and Mikey Dizon-Bumann finishing first and second with the same finish time, 2:13:52. Scott Marusa was third with a time of 2:14:32. Joey Swanson and Jerry Remie came in together next, followed by David Parris, cruising into the finish line a few minutes later. David Morales pulled out of the 42-mile race on lap 6.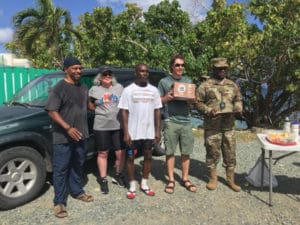 Expert Category rider Dedrick Luikens pulled away in the fourth lap of the 30-mile race and caught up to the Elite group, which started two minutes ahead. After going back and forth with the Elite category during the fourth and fifth laps, Dedrick finished with a time of 1:35:35. Ralph Bartlett and Mario Peters finished with solid times: 1:39:20 and 1:40:28, respectively. Morgan Theophane abandoned the race during the second lap. Norbert Prospere finished with a time of 1:43:25; John Harper rounded out the category with a time of 1:47:24.
In the 24-mile Sport Category, James Meyers, Paul Gumbs and Hubert Bartlett stuck together for the first three laps until Meyers broke away in the fourth lap to finish first with a time of 1:26:11. Gumbs was second in 1:27:32; Bartlett was third in 1:27:32. Judy Gario had a strong finish with a time of 1:53:07.
The Master's Category took on two laps for a total of 12 miles. Greg Williams finished in first place; Bernadette Clarke was second. Newcomers Adrienne Williams and Mac Octalien completed one lap.
The race is dedicated to Bill Gladfelter, and his widow, Betsy Gladfelter, was present to cheer on the riders and to pose for the finish photos. The next race will be the Two-Person Time Trial, scheduled for Sunday, April 29.
For more information please contact 340-332-6282.
Sunday, April 8, 2018 – Virgin Islands Cycling Federation – Gladfelter Classic Road Race
Elite 42 miles TOTAL TIME 1 2
1 Dominic Pugliese 2:13:52 0:19:06 0:19:53
2 Mikey Dizon-Bumann 2:13:52 0:19:06 0:19:53
3 Scott Marusa 2:14:32 0:19:06 0:19:53
4 Joey Swanson 2:15:02 0:19:06 0:19:53
5 Jerry Remie 2:15:02 0:19:06 0:19:47
6 David Parris 2:18:32 0:19:06 0:19:53
David Morales DNF 0:19:06 0:19:47
Expert 30 miles TOTAL TIME 1 2
1 Dedrick Luikens 1:35:35 0:19:08 0:18:35
2 Ralph Bartlett 1:39:20 0:19:08 0:18:35
3 Mario Peters 1:40:28 0:19:08 0:18:35
4 Norbert Prospere 1:43:25 0:19:08 0:20:23
5 John Harper 1:47:24 0:19:08 0:19:07
Morgan Theophane DNF 0:19:08
Sport 24 miles TOTAL TIME 1 2
1 James Meyers 1:26:11 0:21:16 0:21:29
2 Paul Gumbs 1:27:13 0:21:16 0:21:29
3 Hubert Bartlett 1:27:32 0:21:16 0:21:29
4 Judy Gario 1:53:07 0:27:41 0:29:02
Masters 12 miles TOTAL TIME 1 2
1 Greg Williams 0:53:36 0:25:40 0:27:56
2 Bernadette Clarke 0:59:53 0:28:59 0:30:54
3 Adrienne Williams DNF 0:31:25
4 Mac Octalien DNF 0:31:25