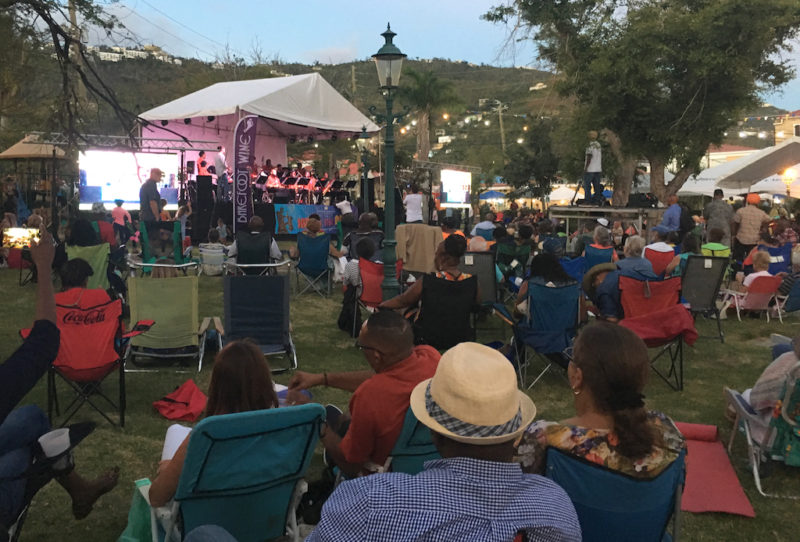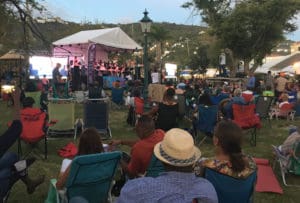 After a forced hurricane hiatus, Jazz in the Park returned to Roosevelt Park in Charlotte Amalie Friday, drawing more than 1,000 music fans for free concerts by world-class performers.
Promptly at 5:30 p.m., the stage was filled by the Lockhart Legends Elementary School Choir, performing Michael Jackson songs, directed by music teacher Mary Christensen.
Next up was the University of the Virgin Islands Jazz Ensemble, directed by Grammy Award winning percussionist, Dion G. Parson. The group started with an uplifting rendition of "Amazing Grace." They covered John Coltrane's "Favorite Things," adding a Caribbean flavor with steel drum aficionado Victor Provost in the mix.
Edgar Abraham, the Grammy-nominated, Latin jazz great, anchored the show. Raised on Puerto Rico, Abraham made his professional debut at age 14 with the Puerto Rico Symphony Orchestra. Friday, Abraham's virtuosity was on display, his opening solo exploration captivating the crowd.
The tight work of the Latin Quintet easily bridged the gap between cultures, with all heads, Thomian or Puerto Rican, swinging in unison with the ease and intensity of true Caribbean jazz and samba.
Conga, drums, bass, sax, and keyboard played as one, floating a diverse and effective set of music over the crowd. Abraham produced a great concert, with tight rhythms, crisp beats and flowing melodies.
Jazz in the Park is presented by International Capital and Management Company, with major sponsorship from VIYA and Heavy Materials. Additional key partners include the USVI Department of Tourism, Stella Artois, Dark Horse Wines, The Community Foundation of the Virgin Islands, and The Reichhold Center for the Arts.