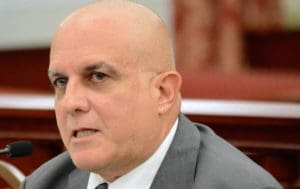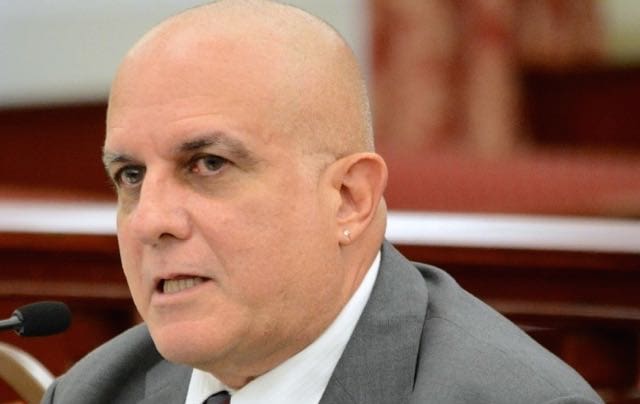 The V.I. Legislature is in no hurry to tighten control over the Public Finance Authority, despite warnings from local and federal auditors that the semi-autonomous entity currently operates without sufficient internal guards and largely out of the public eye.
The situation has opened the door to rampant misuse of public funds. But like many issues facing the territory, PFA reform has taken a back seat to concerns over hurricane-related problems.
"It's not overlooked," Senate President Myron Jackson told the Source Friday.  But he was unable to recall just when he had asked the Legal Counsel's Office to draft legislation implementing recommendations made in a months-old, damning audit of the PFA. Jackson first said it was "a couple of months ago" and then that he may in fact have made the request before the September hurricanes. What he could say for certain, is that "I haven't received from legal counsel those drafts."
The media inquiry has "rekindled my commitment," Jackson said.
The audit was a joint effort between the U.S. Interior Department's Inspector General's Office and the Virgin Islands Inspector General's Office. It covers primarily the time period from 2010 to 2014, but includes information dating back many years and up to 2015.
After the report was circulated among pertinent government entities last summer, their responses were added to it and it was officially released Sept. 29, 2017. However, because the V.I. Inspector General's webpage was one more victim of the storms, it wasn't posted there until early 2018. In the meantime, it received little public attention. (See the Inspector General's website to view the full report.)
The report was not the first time that auditors criticized the PFA for a lack of transparency and for questionable practices. The territory's IG Office issued an audit in 2002 that cited some of the same concerns it voiced 15 years later.
The PFA was created in 1988 to raise and manage money for government capital projects.  Its primary mission is to handle bond offerings. But over the years, its scope has widened to such things as overseeing construction projects, prompting critics to charge it is a "government within a government."
The 68-page, 2017 audit questions PFA payments to vendors without contracts, its circumvention of procurement regulations, the use of an agency credit card for personal expenses, PFA payments for expenditures that should have fallen under the budget for the Office of the Governor, an $808,126 consulting contract with an unnamed former senator, and multi-million dollar discrepancies in its accounting records – among other concerns.
V.I. Inspector General Steven van Beverhoudt said last week that he believes the most important finding in the report is the need for the PFA to improve its accounting system.  The lack of controls on the system led to "a lot of questionable costs," he said. "Things just didn't match, and you're talking about hundreds of millions of dollars."
The agency holds the strings on the government's heaviest purse. To illustrate, as of July 31, 2015, the PFA had 22 active bond issues with initial offerings totaling $2.6 billion, and as of Sept. 30, 2015, it had a total of $515,043,605 of bond proceeds in depository accounts, according to the report.
But its record-keeping, as described in the audit, is sloppy. Auditors found more than $50 million in discrepancies when they compared vendor payments the PFA reported to the IRS and those in its accounting information systems. Some payments were left out, some were under-reported and some were over-reported. In large part, the auditors blame the agency's failure to adequately train employees in the use of the accounting system.
The audit also found that the PFA's problems go beyond haphazard record-keeping.
"Since PFA is GVI's (Government of the Virgin Islands') financing conduit, adequate controls are central to safeguarding billions of dollars in public funds," the audit states. "During our review, we found an unusually high occurrence of potential conflicts of interest at PFA … Our review of 12 professional service contracts and 14 construction projects revealed nine potential conflicts of interest between PFA's vendors and contractors and its board members, employees, board counsel, bond counsel, and elected GVI officials." Among those cited:
·         PFA's bond counsel issued a legal opinion in favor of a new issuance and later benefited from proceeds of that bond issue
·         Diageo USVI contributed $2,500 from bond proceeds to a Carnival troupe managed by a V.I. senator who voted in favor of a $250 million Diageo bond issuance. The company also contributed $1,000 in bond proceeds to a "Democratic Party-Gov. Prayer Breakfast"
·         A former governor and chair of PFA entered into PFA contracts with a close relative
·         A PFA board member who voted in favor of the Diageo bond issue later provided services for the project
·         PFA legal counsel simultaneously represented both the GVI and its opponent regarding a work stoppage on a GVI project in 2013.
Auditors found that the PFA frequently mishandled the awarding and management of professional service agreements and "habitually" awarded sole-source agreements, rather than getting several bids for government projects, as the law requires other government entities to do.
It also paid for contracts with major change orders. "During the construction of the Charles Wesley Turnbull Regional Library, scope changes and change orders caused PFA's costs to increase by 149 percent from the original estimate, while the overall footprint of the library decreased by nearly a third. PFA ultimately paid $13.7 million more than originally estimated on the project," the auditors concluded.
"(O)ut of the $30.1 million (of expenditures) we reviewed, we found that not only did PFA sole-source each of the 12 agreements, but it also paid $16.6 million to contractors without valid contracts, $988,102 for services and rent without a written agreement, $9.6 million for costs that were outside its mission, $6 million to contractors who submitted invoices for payment without adequate support, and $115,494 for services outside contract terms and conditions," the report states.
Moreover, PFA paid for services that were "outside its mission," according to the audit. Those included $5.3 million for legal services from April 2009 to December 2014 (spanning two administrations) for professional services representing the VI government to federal regulatory agencies and the court system; as well as $808,126 for consulting services related to expanding the territory's affiliation in the Caribbean region and other purposes.
The PFA disputed some of the audit findings but did implement several recommendations of the auditors. Those included requiring two signatures for all disbursements over $10,000; regularly reconciling cash and check receipts; implementing an independent review of charge card statements; establishing procurement guidelines for competitive and establishing a code of ethics.
The vast majority of the recommendations in the audit were directed to the PFA itself.  However, the audit recommended the Legislature amend existing law to:
·         Prohibit the PFA from paying expenses unrelated to its mission
·         Stop the PFA from administering construction contracts for GVI and require all construction and capital improvement projects funded through bond proceeds be administered and processed through the GVI's central procurement path
·         Provide a greater level of legislative scrutiny and public disclosure of day-to-day operations, such as ensuring the Board of Directors is impartial and requiring accountability for bond proceeds and budgetary funds through periodic reports
·         Include in the law minimum thresholds for performance bonding requirements.
In a letter to the auditors dated Aug. 11, 2017, Jackson cited the above recommendations and said "the 32nd Legislature will be crafting the necessary legislation to address the four recommendations enumerated above."
While the audit is highly critical, it falls far short of charging that any of its findings rise to the level of criminal activity. Van Beverhoudt said he has discussed some of the findings with Attorney General Claude Walker but "really can't say" whether any of them might warrant investigation. Justice Department public media officer Corliss Smithen said "the Attorney General is familiar with the report but cannot provide comment on whether a particular matter is being investigated."