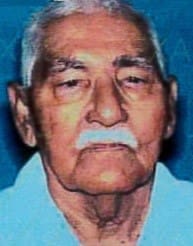 Alejandro Torres Sr., also known as "Yeyo," of Estate La Grande Princesse died on Wednesday, April 4. He was 94 years old.
He is survived by his spouse, Epifania G. Torres; daughters: Delia Torres, Eneida Cuadrado, Maria Hernandez, Norma I. Torres, Maria E. Torres, Lenore Williams, Elba I Torres and Elena Torres; sons: Alejandro Torres Jr., Carlos Ruben, Oscar Torres and Julio Torres; grandchildren: Jose L. Rivera, Belinda Davila, Margarita Melendez, Joana Davila, Katiana Perez, Karina Rodriguez, Johanna Martinez, Jesenia Rodriguez, Jeffery Williams, Jenny Williams, Alejandro Torres III, Lisandro, Zuleyma, Zuraima, Zudelky and Zuleyka Torres, Carlos Alberto, Carlos Andres, Rubicelis and Auricelis Torres, and Manuel A. Torres; and sisters: Arcadia (Cayin) Borges and Juanita (Juani) Torres.
He is also survived by his brother, Jesus Torres; nieces: Dianna B. Maldonado, Judith E. Sergent, Leticia Delvalle, Lisa and Mitchell Lenhart, Carmen M. Ramos, Agustina Rosa, Rosa Garcia Felix, Lily Garcia and Inocencia Cruz; nephews: Rafael Borges Jr., Richard Borges, Hector Cesar Torres, Pedro Felix, Felix Garcia, Anibal, Candido, and Osean Garcia; great nieces: Carla Sergent Baker, Nicole Sergent and Glendaly Delvalle; great nephews: Kristian Vazquez, David Vazquez, José Elias Perez and Victor Delvalle Jr.; daughter-in-law, Maritza Torres; sons-in-law: Samuel Hernandez and Gilbert Williams; and brothers-in-law: Germán Garcia Ventura and Candido Garcia.
Other survivors include sisters-in-law: Petra Torres, Luisa Petersen, Inocencia Torres Garcia and Milagros Garcia; special friends: America and Juny Cruz and family, Andriel Garcia and family, Sammy Garcia and family, and Olga Santos; cousins and other relatives: Alejandra and Nacasio Nico Jr., Stanley Jacobs, Angel and Juanita Torres, Mike Saurez, José Luis Suarez and Carmencita Saurez, Isabel Soto, Lydia Monell, Esteban Monell Jr., Jose Luis Saldaña, Carlos Saldaña, Armando Saldaña, Miguel Saldaña, Julio Saldaña, Carlos Monell, Felipe Rosario, Sal Rosario, Francisca Almestica, Lea Rosa, Bonifacio Saldaña, Mirza Lampe, Pascuala Saldaña, Vicky Brignoni and Juanita Morales; as well as other relatives and friends too numerous to mention.
A viewing will be held at 10 a.m. and a funeral service at 11 a.m., on Thursday, April 12, at James Memorial Funeral Home Chapel. Interment will follow at Kingshill Cemetery.