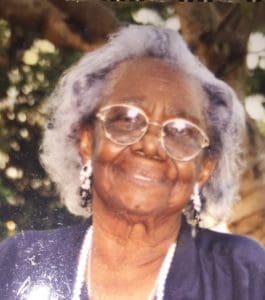 Albertha Payne Rosario, also known as "Anna" or "Auntie, "died on Tuesday, March 27. She was 95 years old.
She was preceded in death by her mother, Mary Jacobs; father, Daniel Payne; daughter, Anita Simmonds Davis; and niece and nephews: Maria Payne, Reginald Payne Rivera, Leroy Payne, Lewis Payne, Elroy Payne and Reginald Payne Jr.
She is survived by her spouse: Miguel Rosario; sons: Albertho Davila; grandchildren: Carl "Doggy Brown" Schou, Agatha "Aggie" Felix, Clarence "Ico" and Earl "Pepeno" Williams, Priscilla "Prissy" Williams Mottley, Albertho Davila II, Elisha Davila Almonte, Albertho Davila III and Albertho Davila IV; nieces: Idalia Payne, Olivia Payne, Sharon Payne, Edna Payne Perez, Alicia Payne-Pipes, Luz Payne-Larsen, Joleen Payne, Alice Payne, Hyacinth Payne, Pearline Payne, Nora Payne-Paniaqua, and Robertine Payne-Stroter; nephews: Anthony Payne, Wayne Payne, Hugh Milton Payne, Aubrey Payne, Enrique Payne; as well as other relatives and friends too numerous to mention.
A viewing will be held from 5-7 p.m., Monday, April 9, at James Memorial Funeral Home.
Funeral service will be held on Tuesday, April 10 at Lord God of Saboath Lutheran Church. Tributes will begin at 9:30 a.m. with the service beginning at 10 a.m. Interment will follow at Kingshill Cemetery.
The family has requested that those attending the funeral service wear festive colors.