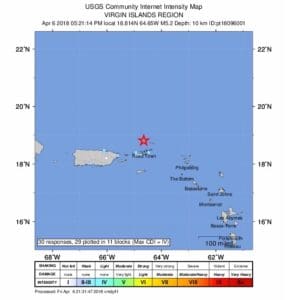 A moderate magnitude 5.2 earthquake rumbled through the U.S. Virgin Islands, British Virgin Islands and Puerto Rico Friday evening. Initial reports suggest that many, if not most St. Thomas and St. John residents felt it but it was much less noticeable by the time it reached St. Croix. A large wave passed by soon after the initial shock, rocking boats.
The U.S. Geological Survey reports the quake occurred at 5:21 p.m. and was centered about 44 kilometers north of Road Town, British Virgin Islands.
The area is seismically active and typically experiences one or more tiny quakes, from magnitude 1 to around 3.5, nearly every day. But quakes of 5.2 are considerably less common. Quakes have caused tsunami in the region but have rarely been dangerous. More than a century and a half ago, on Nov. 18, 1867, a major tsunami killed five to six hundred people in the territory and smaller numbers in the BVI and Puerto Rico.
The USVI recently installed a number of tsunami warning sirens but they have been offline since last fall's hurricanes. A magnitude 7.8 earthquake struck much further away, near the Cayman Islands, on Jan. 9, resulting in a tsunami alert, which was canceled before it was issued in the territory. There was no damage to the territory from that quake.