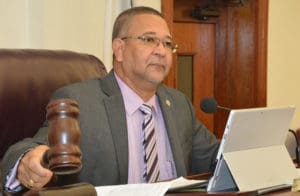 A Senate committee hearing to gather information about the recovery at V.I. public schools was abridged Tuesday due to the absence of any representation from the V.I. Department of Education at the direction of the governor.
When invitations to the hearing were sent out by the Legislature's Committee on Education, Youth and Recreation, Commissioner of Education Sharon Ann McCollum replied that nearly all of the department's top officials would be out of the territory for a variety of reasons including medical appointments, personal leave, and off-island training seminars.
The unavailable DOE officials included Dionne Wells-Hedrington, insular superintendent for the St.Thomas-St. John district; Colleen Williams, insular superintendent district for the St. Croix district; Charlesworth McCarthy, deputy superintendent for St. Thomas-St. John; Vaughn Hewitt, deputy superintendent for St. Croix; Gerda Sebastien, St. Thomas-St. John business and budget director; James Bernier, territorial director of capital projects and facilities; Maria Melendez-Tirado, territorial director of federal grants; and McCollum herself.
McCollum told the committee the DOE would be represented at the hearing by Anthony Thomas, DOE chief of staff, and Racquel Berry-Benjamin, deputy superintendent for St. Thomas-St. John. McCollum's correspondence includes Vaughn Hewitt in both the list of people who would attend, and those who are off-island.
That turned out to be a moot point, as no Education officials were present at the hearing Tuesday.
Committee Chairman Sen. Jean Forde said he learned the day before the hearing that a directive from the Office of the Governor had instructed no DOE officials to attend.
Adding to the frustration of senators, members of the V.I. Board of Education, who indicated that they would attend the hearing, were absent with no explanation.
That shrunk the long list of planned testifiers to only three who ultimately attended: the presidents of teachers' unions in both districts, and the head of the St. Thomas-St. John District Educational Administrators Association.
Those testifiers had more questions about the state of the V.I.'s public schools than answers.
Forde said the hearing was called after a series of "alarming" tours that senators took of the territory's schools in recent weeks.
"What we saw was total neglect of a lot of our schools, abandonment of our schools with equipment, books, and supplies inside," said Forde. "We learned that even the schools that are open and in use right now, they too have been neglected, with no effort to repair or to assist them in some of their challenges."
During the hearing, Forde and other committee members described neglect and waste at schools toured by senators months after Hurricanes Irma and Maria. Books and equipment that might have been salvaged sat deteriorating inside damaged buildings. Some schools were shuttered but still had air conditioning units running.
Forde said he was particularly incensed that student files, some with medical records and Social Security numbers, were left in open, unguarded school offices.
"If that doesn't say something's wrong I don't know what does. I mean it is criminal for that to have taken place," Forde said.
In at least one case, he said, a school auditorium was found to be out of use when all it needed was to be cleaned after it was used as a shelter after the hurricanes.
Committee members including Forde said they saw no preparation at school sites for the modular classrooms that Gov. Kenneth Mapp and DOE officials say will be installed before next school year.
Sen. Kurt Vialet said senators have been kept in the dark by the DOE, the Federal Emergency Management Agency, and the Mapp Administration about the modular units, which are supposed to help ease schools out of split sessions.
"I hope the administration will provide information on who has been selected to construct the modular units," Vialet said. "Because we don't know. We don't know how many are coming. We don't know which school are going to get them."
Testifiers from the teachers' unions themselves wanted an update on the status of the modular units.
Rosa Soto-Thomas, president of the St. Croix Federation of Teachers, and Carol Callwood, president of the St.Thomas-St. John Federation of Teachers, said union members are feeling the strain of working in overcrowded, storm-damaged schools.
Soto-Thomas said on St. Croix 13 public schools are operating on only five functional campuses, and those campuses themselves have substantial damage.
Soto-Thomas said grievances about working conditions are continuously being filed, one as recently as Monday. On several occasions low water pressure has forced schools to close, she said.
"Access to the internet perpetually stymies the use of technology in classrooms," she added.
Callwood said their are similar teacher complaints about conditions in the St. Thomas-St. John district.
"The cost and the time needed to properly clean and repair the schools and activity centers before classes resume in September has not been identified, or at least it has not been shared with us," said Callwood.
"We haven't seen enough to reduce the anxiety of facing another year of split sessions," she added during a discussion of the planned modular units.
Since internet goes out "at least once a day" at many schools, Callwood said, attendance records, grading, lesson plans and teacher evaluations have all been difficult to complete and keep track of.
Public schools now have a definitive closing date for the current school year – June 29 – and the unions are advocating for teachers to be paid time and a half on the federal and local holidays they will have to work to make up lost time.
Carver Farrow, president of the St. Thomas-St. John District Educational Administrators Association, said administrators are not optimistic that schools will be out of split sessions in 2018-2019.
He added that conditions at the schools have exacerbated the longstanding issue of teacher exodus from the Virgin Islands due to low salaries. The starting salary for public school teachers in the V.I., $32,000, is approximately $15,000 less than the U.S. average for the same entry-level job.
"So severe is the salary crisis among educational professionals that we are witnessing an exodus of the young and sometimes best and brightest to the U.S. mainland, where oftentimes the salaries are one and a half to two times the salaries that they can receive here," Farrow said.
Present at Tuesday's hearing were Sen. Forde, Vialet, Novelle Francis Jr., Myron Jackson, Tregenza Roach, Janelle Sarauw and Neville James.