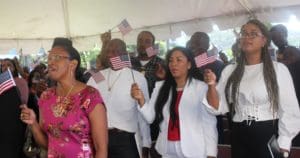 In celebration of Transfer Day, the District Court of the Virgin Islands hosted a Naturalization Ceremony on St. Thomas on March 29.
The ceremony took place on the grounds of the Ron de Lugo Federal Building and Courthouse. A total of 52 petitioners from 16 different countries accepted the oath of citizenship in the presence of many well-wishers.
Honorable Curtis V. Gómez, District Court judge, administered the oath of citizenship and encouraged the newly minted citizens to participate not only in the privileges but also the burdens of United States citizenship. He referenced the need to be willing to serve as jurors when they are called.
For more information, contact Glenda L. Lake Esq. clerk of the District Court of the Virgin Islands, 5500 Veteran's Drive, St. Thomas, U. S. Virgin Islands 00802 or email: [email protected]