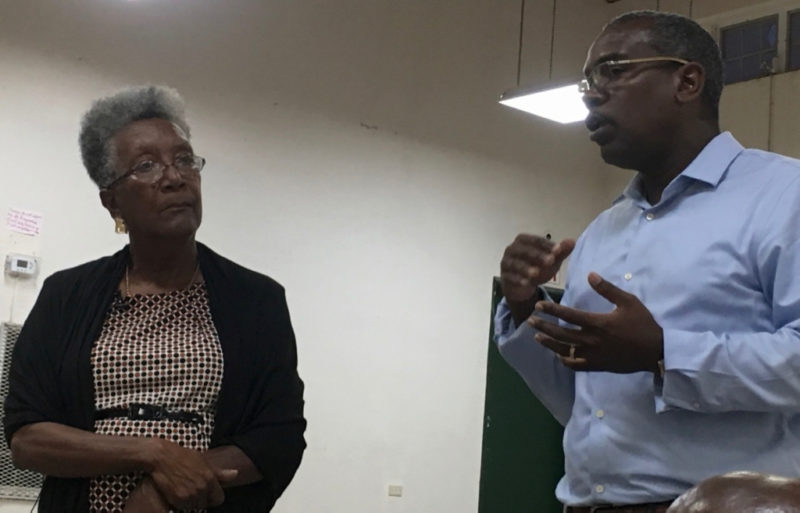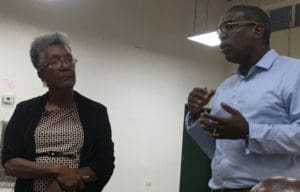 Students of the territory's public schools are expected to resume full days of instruction when the new school year begins in September, but at a town hall meeting Wednesday, Board of Education member Mary Moorhead said planning is already behind schedule, and the district also faces a teacher shortage that could create problems in the fall.
Moorhead, who hosted the town hall Wednesday night, said the Department of Eduation's plan, which is still being reviewed, is to have all students attend school for full days starting in September. Since Hurricanes Irma and Maria battered the islands in September, students have been going to school half days, sharing the campuses that remain open.
According to the plan, buildings that have been closed will be cleaned and repaired, or temporary structures will be purchased and erected on the school grounds to serve as classrooms and common spaces.
Modular structures would be used for classrooms and Sprung structures would be used for common spaces, such as gyms and cafeterias.
According to Moorhead, the DOE's timetable calls for work to begin after school lets out at the end of June and will be completed before it begins again in September.
"I tried to find out how long it takes for a modular and Sprung to be shipped, but I couldn't get that information. How long it takes for them to be erected, but I couldn't get that either," Moorhead said.
The project is already behind schedule, she said. The deadline for the Legislature to approve the plan was March 19, which was missed. The next deadline, which is for Department of Planning and Natural Resources to issue permits, is April 20.
Moorhead thinks the project may be able to move forward without legislative approval.
According to Moorhead, staffing issues pose an equally serious challenge to resuming a full schedulenext school year. There are currently 47 vacancies for teachers, she said.
"Let's be honest about it, come summer, more educators will be leaving" said Moorhead, citing issues such as working conditions and salaries.
"Every time you hear a public announcement, they are telling you to get your children back (for those whose children are attending school in the states) and I am just saying to you, be cautious about bringing your children back. Not only because of the readiness of the facilities, but also because of the vacancies of the educators."
Moorhead said at least some of the problems could be resolved relatively easily, such as the auditorium at St. Croix Educational Complex, which has been closed since the storm.
"Other than the mold that grew because of the moisture on the chairs, there is no damage to see in the auditorium," she said. "It is closed because they have not been able to clean it."