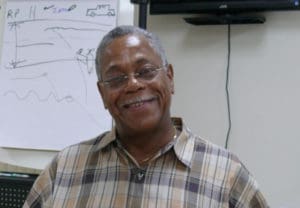 Jurors hear closing statements Monday in the trial of Ronald Hatcher, with the retired V.I. police officer's attorney calling the defendant a "good Samaritan" who wanted to save another's life."
Defense attorney Yohana Manning recapped the trial testimony: his client had heard cries of distress outside his home. He had gathered his holstered firearm and retirement badge and had gone out to assist.
Hatcher was attempting to serve his community, Manning said.
A 45-year veteran of the Virgin Islands Police Department who trained other officers, Hatcher is charged with second-degree murder, reckless endangerment and carrying or using a dangerous weapon in connection with the shooting that killed Jose Rivera Berrios on Sept. 26, 2013, on Queen Cross Street in Christiansted.
When Hatcher stepped outside that night, he encountered a man, later identified as David Abraham, running down Queen Cross Street screaming. He then saw another man chasing after him with what looked like a rifle, Hatcher testified on Friday.
That second man, reportedly high on a bad mix of cocaine and alcohol, was the 43-year old Jose Berrios.
Hatcher had wanted to maintain visual and verbal contact with Berrios and shouted for others present to call 911 for help, according to Manning. Hatcher backed Berrios toward his apartment above Pucha Bar on Queen Cross, and Berrios reportedly leaned his "rifle" against the building and went upstairs for a machete.
The bar owner called 911.
Jose Gonzales, a close neighbor, attempted to calm Berrios. He took the machete from him and maneuvered him upstairs to the balcony of his apartment.
Meanwhile, Hatcher reportedly waited for the backup that took between one and a half and three hours to arrive. Manning told the jury Monday that Hatcher left Berrios's "rifle" in place against the wall, not wanting to disturb fingerprints or DNA evidence.
According to testimony, Berrios continued to shout and curse at Hatcher from the edge of the balcony. Someone had locked the gate to the balcony, and Berrios then attempted to climb over the balcony railing to get at Hatcher, said the defense.
That's when Hatcher fired.
"He's got a right to defend himself," Manning told the jury.
A stroke survivor and cancer patient, Hatcher, 69 years old at the time, felt threatened and shot Berrios in self-defense, according to his Friday testimony.
The prosecution, however, painted a different motive.
"The defendant shot and killed Jose Berrios because Mr. Berrios dared to disrespect; he dared not to listen to the demands of the defendant," claimed Assistant Attorney General Patricia Quinland.
She insisted that Hatcher intended to shoot Berrios.
"The defendant took his firearm out; he aimed his firearm at Mr. Berrios, and he shot Mr. Berrios," Quinland told the jury Monday. "He did so because he did not like the words coming out of Mr. Berrios' mouth, and he did not like his attitude."
Quinland likened Hatcher's shooting to vigilante justice, but defense lawyer Manning said, "When officers take the oath to protect and serve, that oath is engrained."
He called Hatcher a good Samaritan.
Now 73 and frail, Hatcher walks with a cane and remains plagued with cancer.
Superior Court Judge Jomo Meade will give instructions to the jury at 9 a.m. Tuesday.