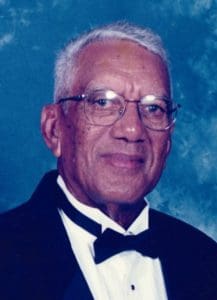 David Cornelius Canegata Jr., also known as "Doc," of Little Hospital Street, Christiansted, died on Tuesday, March 20. He was 89 years old.
He is survived by his spouse, Carmen Maria Canegata; daughters: Dianne Canegata-O'Reilly, Terri Canegata-Evans and Yvette Canegata-Jones; son, John Michael Canegata; grandchildren: Nicole Yvette, David Mychal, André David and Jessica Canegata, Shayna Maria (Norman) Johansen, Justin David, Faith Patricia, Joshua Alfred and Zoe Grace Powell, Alexandrya Gabrielle (Corey) Black, Rebekah Phyllis, Robert Melvin (Ani) and Jordan William Patrick Evans and Jenna Caroni Canegata; great-grandchildren: David Mychal Jr., Nadiya Rose Canegata, Judah Cornelius Black and Zuri Leona Canegata; and sister, Melba C. Biggs.
He is also survived by daughters-in-law: Shenneth Canegata and Thays Rodriguez-Canegata; sons–in-law: Rudy G. O'Reilly Jr., Cornelius D. Evans and Chris T. Jones; extended family: Rosita Rivera, Wayne Powell, beloved members of the Canegata, Motta, McDonald, Weber, Biggs and Martinez families; special friends: Helen Sterling, Lois Canegata, Gloria Canegata-Waterman, Sonny Coleman, José Encarnación, Ulric Benjamin, Floyd Henderson, and the Steele, Fabio, Schjang, Schuster and Benjamin families; as well as other relatives and friends too numerous to mention.
A viewing will be held at 9 a.m. followed by a funeral service at 10 a.m., Tuesday, April 3, at St. John's Anglican Church. Interment will be at Christiansted Cemetery, St. Croix.