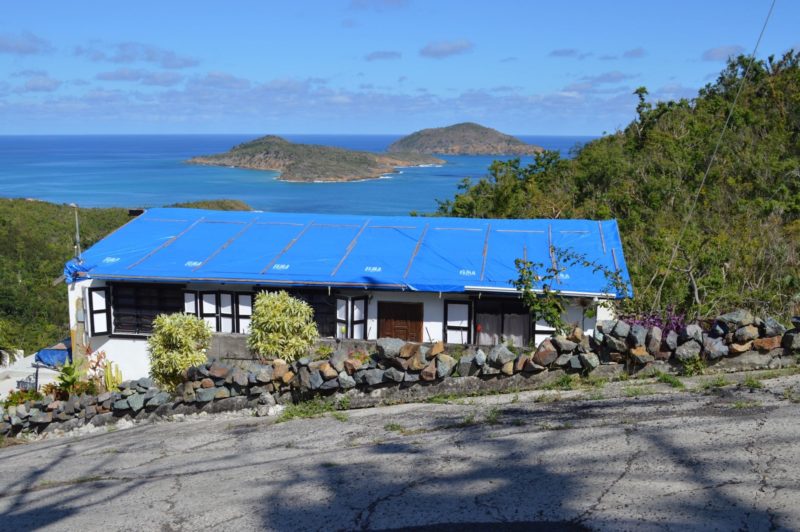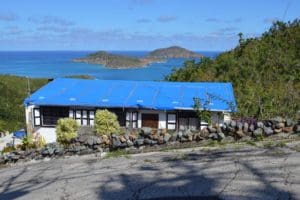 Many Virgin Islanders are seeing long delays and some are complaining of low settlement offers as they negotiate insurance claims to repair their homes before hurricane season arrives again in June.
There are two current lawsuits over residents' insurance problems and possibly more on the way.
As of Feb. 15, 53 percent of the territory's 10,114 insurance claims filed as a result of Hurricane Irma had been closed, 4,738 with payment, and 596 without; 46 percent of the 6,002 claims filed as a result of Hurricane Maria had been closed, 2,221 with payment and 523 without, according to the Division of Banking, Insurance and Financial Regulation under the Office of the Lieutenant Governor.
Those claims settled so far total more than $750 million dollars- a dollar figure larger than the $737.1 million paid out in insurance claims after Hurricane Marilyn in 1995 and on track to match or exceed the $1.5 billion paid out after Hurricane Hugo in 1989.
The comparison is a little misleading. If you account for inflation, the current value of the Hugo insurance settlements comes to more than $2.9 billion today. So total payments appear on track to come in at around half the real amount paid out after Hugo, even though Hugo mostly affected St. Croix while the 2017 hurricanes devastated the entire territory.
Part of the reason for that is the territory put in place much more stringent building codes after Hurricane Hugo in 1989 and Hurricane Marilyn in 1995, Mark Braddell of Great Lakes Insurance said Thursday.
Along with hurricane strapping and other requirements, roof purlins – horizontal beams supporting the rafters- are two feet apart on post-Hugo homes.
"If (the space) is more than that, you know the building made it through Marilyn and Hugo," he said.
Also there are more concrete and fewer wooden structures than before Hugo, reducing the damage, he said.
"The building code saved a lot of property," Braddell said.
An insurance broker, Braddell said he has between 200 and 300 clients in the territory.
In January, the Division of Banking, Insurance and Financial Regulation had already reported more than 1,000 complaints from residents attempting to make insurance claims on their damaged properties following Hurricanes Irma and Maria.
Many of the complaints relate to insurers claiming homeowners are underinsured, or with homeowners dealing with force-placed insurance – insurance put in place by a bank holding the mortgage on a property, the division's director Gwendolyn Hall Brady told senators in January.
Brady told senators a higher number of insurance claimants than the division expected were underinsured when the storms hit. This applies to homeowners who had insurance policies that covered less than 80 percent of their property's appraised replacement cost.
One reason a homeowner may not be aware they are underinsured is if they made improvements to an insured property without disclosing it to their agent and updating their policy. Another reason may be if construction rates per square foot, which are market based and used to determine replacement costs, have increased since a policy was purchased without the policyholder being informed.
Brady said an emergency order issued by her division was to get to the bottom of why so many residents have claimed being unfairly treated, and why so many were underinsured in September. A second review of each of those cases has already begun.
St. Thomas attorney Michael Sheesley, who is suing MAPFRE insurance company, says he has heard of a number of cases too. He said he feels at least a portion of the underinsurance claims are bogus excuses for offering less than the cost to repair damage.
St. Thomas attorney Leigh Goldman also said underinsurance is a problem.
Underinsurance is a major problem, but not in his brokerage, Braddell said.
In his own practice "I've seen maybe one case of underinsurance. And that one is debatable," Braddel said.
Braddell said insurance companies do not have a powerful incentive to give unfairly low estimates or to declare people underinsured when they are not, because in a disaster like this, the insurance companies are using their own reinsurance to pay claims. So the money is not coming from their own pockets.
But high claims will mean insurance companies will have to pay higher premiums in the future, just as homeowners will have to pay higher premiums after their insurance pays out, Braddell said.
The insurance broker can help a policy holder work with the insurance company to iron these things out, he said.
A number of residents who were underinsured at the time of Hurricanes Irma and Maria had what is known as "force-placed insurance, or insurance put in place by a bank or lender when the owner has not insured a property themselves.
Some residents' difficulties with their force-placed policy claims led to a class action lawsuit filed Feb. 14 in the District Court of the Virgin Islands.
Daryl Richards and Loretta Belardo, both of St. Croix, filed the lawsuit against the Bank of Nova Scotia on behalf of themselves and others covered by insurance force-placed by the bank, who they allege refuses to file such claims and "is stonewalling borrower's attempts to get information."
"It has been five months since the hurricanes and, on information and belief, Scotiabank has not resolved a single claim on behalf of a borrower with force-placed insurance," a filing in the case reads.
More plaintiffs joined the suit and filed an amended complaint March 19. The eight plaintiffs now say the Bank of Nova Scotia delayed its responses because in reality it took payment from borrowers for force-placed insurance but never bought insurance.
In the amended complaint, the plaintiffs allege "Scotiabank allowed its force-placed insurance policy to lapse in August 2017 without informing its borrowers, who continued to pay premiums for nonexistent coverage. When the borrowers made claims under the force- placed policy after Hurricanes Irma and Maria damaged their homes, Scotiabank engaged in a pattern of deception and delay, falsely telling borrowers it was processing their claims even though Scotiabank knew there was no coverage."
The court will determine whether that assertion is accurate or not.
Reached for comment, Scotiabank spokesperson Heather Armstrong said in an email "unfortunately we are not able to provide you with a response to your question."
Every property owner should avoid force-placed insurance, Braddell said. It is more expensive for the same amount of coverage, for one thing.
"(But) the main complaint I hear on force-placed is the amount covers only the mortgage," Braddell said, adding the amount left on the mortgage may not be enough to pay for repairs.
In the wake of multiple complaints about insurers saying borrowers are underinsured, the Office of the Lieutenant Governor issued orders requiring a second review and requiring insurers to give policyholders a full explanation of the term "underinsured." Each policyholder must sign a document evidencing that the agent has provided a full explanation of the term "underinsured."
"With the issuance of this emergency order, we have placed the responsibility on all insurance companies within the territory to properly notify and educate their policyholders on the issue of underinsurance," Lt. Gov. Osbert Potter said in a statement in February.
But some are saying at least a portion of the determinations of underinsurance are bogus.
Sheesley has filed suit against MAPFRE, the leading insurance company in Spain, the largest non-life insurance company in Latin America and a major insurer in the U.S. Virgin Islands and Puerto Rico.
Sheesley claims MAPFRE hired underpaid and under-trained adjusters who did what he called  "drive-by inspections" that took less than 15 minutes.
According to his complaint, MAPFRE's adjusters ultimately offered to pay Sheesley $10,622.50, less than 2 percent of the $738,676 estimate Sheesley got from a contractor.
Sheesley is claiming the insurer's delays, bad adjustments and low offers are all intentional.
"They are doing this in bad faith," he said, when reached by phone.
"It is not people like me that I am worried about. It is the little old lady or the family that lost their home and lost their job after the storms," he said.
"MAPFRE is using people, using that they are in a terrible situation to pay them pennies on what they are actually owed," Sheesley alleged.
He suggested MAPFRE is telling people they are underinsured to give them leverage to offer less.
Sheesley said he believes "adjusters are coming in and saying almost as a matter of course" that people are underinsured.
"They are doing that to people who bought their property a year ago," he claimed.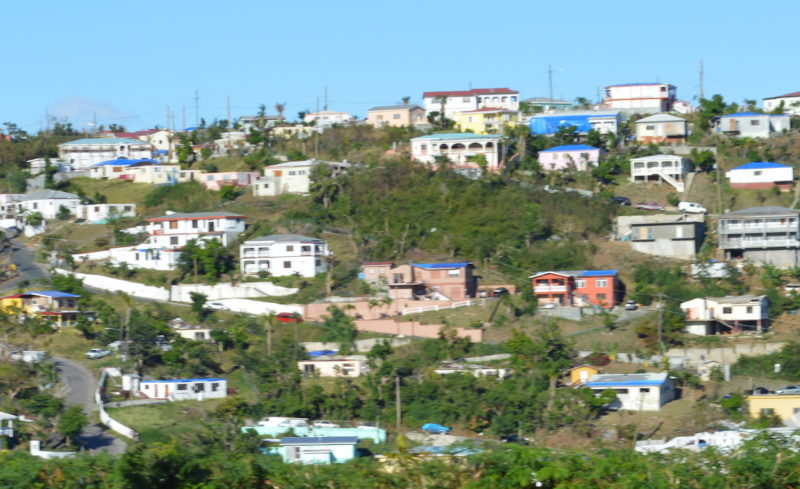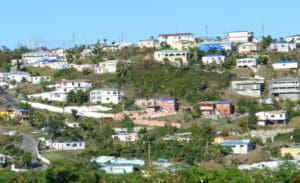 "They are using this allegation as leverage because the average homeowner gets scared," he added. "They may be living without a roof, without a bathroom. They may have mold. People are getting nervous. Hurricane season is coming."
"Imagine if you have a blue roof," he said, referring to the blue nylon tarp roofing system FEMA contractors have installed on many V.I. homes. Those are not going to fare well even in a mild storm, and many people are desperate to get any funds to fix their homes before another storm hits, he said.
Sheesley is not an unbiased source, as he is suing MAPFRE for damages.
When asked for comment, a MAPFRE representative said Wednesday they would give a statement Thursday, but had not sent it by 9 p.m. that night.
Goldman, another St. Thomas attorney, has not filed suit as of yet, but makes very similar assertions.
"We are trying in all cases to get our clients whole without costly or time consuming litigation," he said.
But as deadlines to file approach, that may have to change, he added.
His account of his clients' complaints echoed much of what Sheesley alleges, including haphazard, low-ball adjusting and questionable determinations that policyholders are underinsured.
"One of the issues, at least with MAPFRE, is their original adjusters completely underestimated the scope of work to be done as well as the cost," Goldman said.
"They did what I refer to as drive-by adjusting, where they come to a property but do not spend an adequate time reviewing it. … They never go up on the roof. They don't go around back and notice there is a tree launched through the house," he said.
Many people do not have a copy of their policy either, making it harder to judge whether the insurance company is offering enough. Some have asked for copies but the insurers did not give them, according to Goldman.
"That seems to be being resolved now. But we are six months out," he said.
Another problem is insurers are trying to use Puerto Rico prices for material and labor, when materials cost much more in the Virgin Islands, Goldman added.
Like Sheesley, Goldman suggested delays work in the interest of the insurer and against the policyholder.
"Time is on their side. If I am paying you the same amount I was obligated to pay six months ago, I am winning," he said.
He doesn't necessarily blame the local adjusters though.
"I think this event was so big it overwhelmed the ability to be dealt with by the groups that were here," Goldman said.
"But I do not understand why the hesitation in requesting outside help. They should have requested outside adjusters experienced with this sort of event sooner. … Even now they may not have enough adjusters, to be perfectly frank," he added.
"I think that's unacceptable and in bad faith. It should have been done by now. We should be in the stage where everything is being concluded," he said.
Other sources in the field who spoke on condition of anonymity also said insurers were overwhelmed by the volume of claims and did not do enough to hire additional adjusters fast enough.
Goldman said there are defenses to the determination a home is underinsured.
If a home was purchased two years ago, an insurer should not say it is underinsured "unless you can show how the property value dramatically increased from 2016 to now," he said.
And if you owned the property for 10 years, "at some point (the insurer) should send a notice saying hey, don't forget to check the value of your property. … I can say I had a good faith reliance on my broker."
Goldman also said insurance adjusters have been telling policyholders their policy does not cover certain things, and those who do not have copies of their policies may simply accept that, whether it's true or not.
"We had cases where adjusters told people insurance doesn't cover paint," he said, by way of example.
While he has seen many success stories, with good, timely payments, Goldman said he has also seen what he feels is intentional delay.
"Remember right now, people are vulnerable," he said. "They will accept less, as long as they get something. Also they are economically vulnerable, with the loss of jobs in the territory. So these delays all benefit the insurers."
Several messages were left for Brady and other officials at the Division of Banking and Insurance for this story, but efforts to get comment and more details from that division this week have not borne fruit.