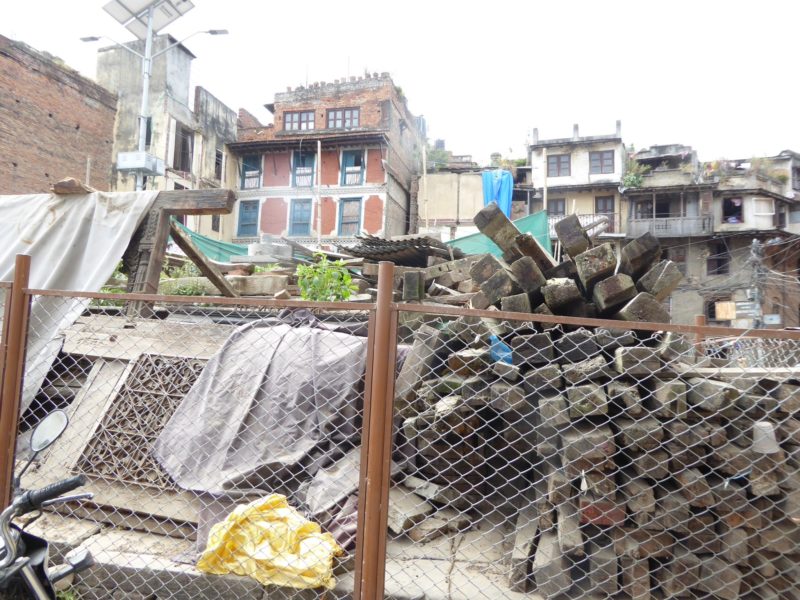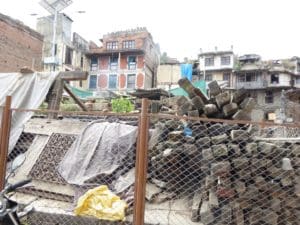 Crinkled galvanized, fallen trees and piles of debris and personal belongings fought for space along what remained of the roads, while downed utility poles were still creating dangerous obstacle courses as I left the Virgin Islands in October 2017 only weeks after after two Cat 5 Hurricanes had leveled life in my community.
I was headed for a place halfway around the world that had not that long ago seen its own deadly devastation.
I was wracked with doubt about making the long-since-planned trip I had dreamed of for years. Why was I leaving one hot, humid disaster zone without electricity for another disaster zone also without electricity – and calling it a vacation?
I was heading to Nepal, a third-world nation that had been shaken to its core by a 7.8 magnitude earthquake just two and a half years earlier.
Guilt, fear, grief and shame at the thought of leaving behind the mess for others to clean up dampened my enthusiasm for the journey. What had been the deliriously joyful prospect of wandering through the Himalayas for days with nothing to consider but God and nature (and breathing at altitude) had become a dilemma. It had also become an opportunity to see what other disasters look like up close and personal.
Little did I know as I embarked on my first trip to Asia how the fates would conspire hand me a deepened and broadened perspective on the importance of writers – specifically journalists – to tell the stories after disasters.
With climate change full upon us, it becomes not only the importance of the information, but also of the view from which we take in the reality and possibility.
Several days before our tour began I connected with old and dear friends with whom I was traveling, giving us time to explore Kathmandu at our leisure.
Though much had been done to clean up and begin the restoration process at the many sacred sites in the city, scaffolding and neat piles of ancient carved wooden beams highlighted what had happened at these venerated tourist destinations and what still needed to be done.
But no matter how hallowed and part of the story of April 25, 2015, these places were still only material things. Things that could be rebuilt.
It was a chance meeting with a journalist turned tour guide that taught me the story of a people and their village that had disappeared forever.
It was obvious to me that there was more to Ashok Silwal than met the eye. His intensity and commitment to his country, his articulate and engaging demeanor were moving in a way that one doesn't always see in your everyday tour guide. He was passionate about the uniqueness of Nepal.
He was also a font of facts, telling us about the 100 or more different ethnic groups, political parties and languages of Nepal.
It was not until we were lunching in full view of the Boudhanath Stupa that I discovered that Ashok was a fellow journalist. It would not be until I returned to Kathmandu from my trek in the Everest region that I would learn he was a deeply thoughtful man and community ambassador.
Dark eyed, tan skinned, handsome and slight, as are most Nepalese, Ashok could be in his 20s. But it became obvious that he was not when he told me he had worked in the news business for 15 years, before he tired of what he called "the monotonous death of creativity."
During those 15 years working in newspapers, radio, magazines and on television, while also teaching communications at Tribhuvan University, he found "only the date was different," he told me as we sat sharing lunch and a pot of tea at the Thamel Eco Resort in the heart of Kathmandu's tourist district.
"I wanted to make writing more colorful, more deep and more broad," he said.
How better than to become a tour guide in a place where unless you are a subsistence farmer your next best economic opportunity – like so many third world nations – is in tourism?
But it wasn't the money that attracted Ashok, it was passion.
"I wanted to meet people from other countries, other cultures," he said.
He was admonished by senior journalists for leaving a 15-year career.
"I told them, I am not leaving. I am exploring more colors, more depth, more heart as a tour guide."
He went to school to be trained in the field. But four months later his career as a tour guide came to a jolting halt when the country was rocked by its worst disaster in 80 years.
After the quake, "there were no tourists, time stopped." And Ashok found himself both unable to work and unable to write.
"I am not dead," he mused, but he couldn't write. Journalists were telling him to write, but still he couldn't.
"A week passed and I didn't write anything and then another week, and I didn't write anything."
He became frustrated, and the self recriminations began.
"I am doing an injustice to myself and our people," he thought. "I am lazy." But then he realized, "I am a journalist and I am a tour guide."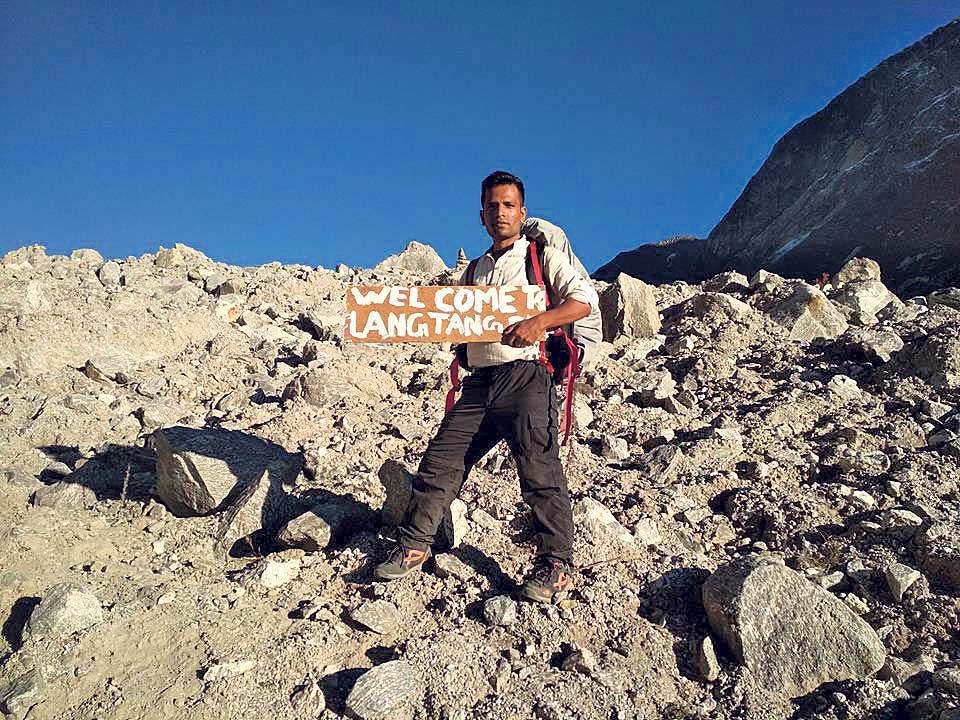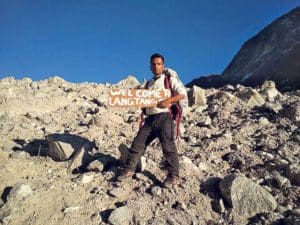 That was when he decided to walk to Langtang. After a second earthquake on May 12 had obliterated the beautiful valley between Kathmandu and Mt. Everest months had passed with no details of the devastation, only that the area was declared "humanless" by the military and made off limits to visitors.
Despite the edict and the very real danger of further landslides and avalanches, Ashok left for Langtang, a village of 400 souls that marked the spot for the epicenter of the second quake which measured 7.3 on the Richter Scale.
Descriptions of Langtang before the quake harken a peaceful, verdant area in the shadow of the Himalayas, that was considered one of the top five tourist destinations in a land of many.
"No journalists, no trekkers, no guides were going there," Ashok told me.
But he was compelled by some force, some intuition to go there, which he did mostly on foot. Along the way a small entourage of former Langtang villagers hearing of his journey began to join Ashok. They went despite the government declaring the area off limits. They went despite being told along the way by local authorities, "If you are going to Langtang, you are going to death."
They walked for five days, climbing over dead bodies "lots of dead bodies" while sliding on the rubble and battling attitude and despair.
They found food by digging through the rubble of people's homes. "We slept in broken houses." There were aftershocks. They went on.
"I was not a professional trekker," Ashok reminds me, with a trace of what he saw in those five days still reflecting back from his serious, shining eyes. "I found cigarettes," which I assumed as I listened to his heartbreaking and yet somehow jubilant story helped with the plethora of highly charged feelings he encountered on the way.
There were 10 villagers and a cameraman who made the tumultuous journey alongside Ashok.
"I went there to record the human history of an earthquake. I wanted to revive life in Langtang, where there was no more life, but where life would be possible again.
"I wanted to show hope," he said, "not just some picture of a woman crying."
Two months later a French group trekked to the once populated area.
"I followed them with my cameras."
Two documentaries, "Waking and Walking," about the first journey and "Ghar Farkiraheka Manchhe" – a documentary about Langtang locals returning to their village after the earthquake, came out of his efforts. And he has been acknowledged for his efforts by at least two awards. He is known as Langtang's Goodwill Ambassador and recently was awarded the 2018 Top Guide award by the National Tourism Entrepreneurs' Association (NTEA.)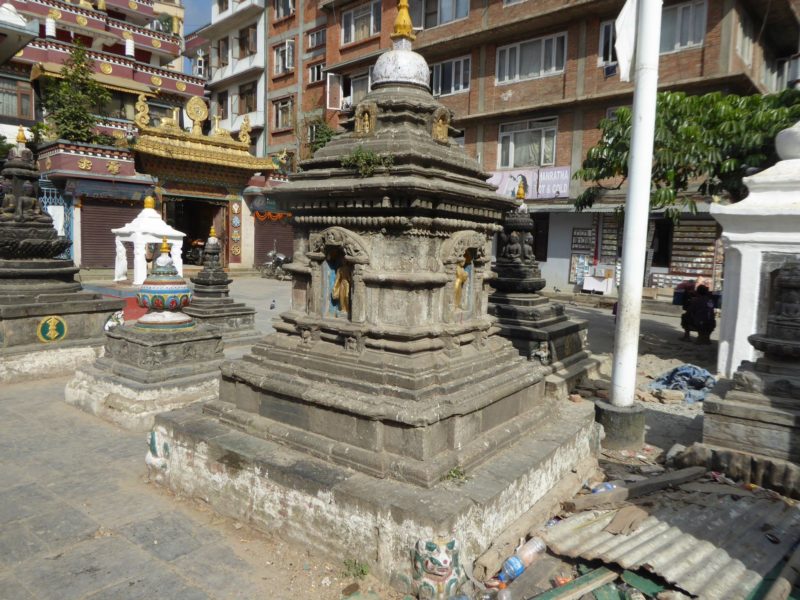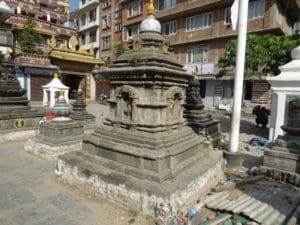 What I am struck by as I review my trip to Nepal, where more than 9,000 people perished and entire villages disappeared from the map, is that there is always more to any story.
The story Ashok told must be our story. But that requires more than wearing T-shirts proclaiming our survivorhood and spouting slogans like "V.I. Strong." It requires far more than finger pointing and waiting for FEMA or the feds to fix it. Really, it requires looking at reality in living color, plumbing the depths of trauma and then turning to our hearts and souls for the real answers. It requires the use of details, truth and seeing more than two sides to stories. It requires cooperation and willingness to change. It requires great thought in making choices about where we put our money, energy and votes. It requires hope, faith that includes works and a new, clear-eyed level of acceptance. Our world has changed. That doesn't make it bad.
Let's make the story of our recovery have a happy ending. Let us revere what God has given us in our natural world, let us respect and protect it with whatever we have left, while honoring and loving each other in this tiny community in the middle of the deep blue sea.