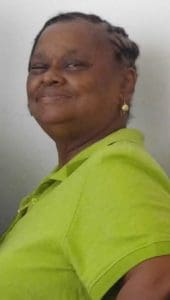 Ruth Agatha Hennemann Baptiste of La Grande Princesse, St. Croix, died in Port St. Lucie, Fla., on Feb. 28. She was 69 years old.
She is preceded in death by her parents: Carlos Alfredo Hennemann and Helen Juliana Williams Hennemann; and her grandparents: Fritz Hennemann, Thomas Samuel Williams, Angelina James Emanuel and Charlotte Amalie David Williams.
She is survived by her children: Carlos Baptiste and Okolo Baptiste; daughters-in-law: Tamara Devueax Baptiste and Kishma Rhymer-Baptiste; stepdaughter, Brenda Jno Charles; grandchildren: Jarod McPherson, Neiko Baptiste, Nia Baptiste, Yasmine Baptiste and Ava Marie Robinson; step-grandchildren: Brittney Baptiste, Sydney Baptiste and Nakeem Jno Charles; sisters: *Leola (Lee) Miller Davis, Yvonne Williams Johnson and Linda Hennemann; brothers: Nimrod Hennemann and *Anthony Hennemann; and nieces and nephews: Anna Peterson, Julio Peterson Jr., Ella-Mae Peterson Daniel, Rosalie Simmonds, Hugo Simmonds Jr., Deo Moona Jr., Cheryl Gill Webb, Charlene Johnson, Nicole Rogers, Kim Rogers, Kristal Rogers, Nimrod Hennemann Jr., Neil Hennemann, Nardii Hennemann, Nathaniel Hennemann, Deandra Hennemann, N'namdi Greene, Jahmarle Greene, Akeel Riviere and Ebony Riviere.
She is also survived by great-great nieces and nephews: Leonard (Cisco) Diaz I, Deniel Peterson, Julio Peterson III, Darnell Peterson, Taira Daniel, Tyrell Daniel, Adele Ford, Pamela Ford Manifold, Alesha Garvey Chanyasubkit, Nigel Simmonds, Nadine Simmonds, Aziza Simmonds, Chastity Moona, Deo Malik Moona, Jahleo Moona, Auburn Webb, Emerald Kean, Layla Kean, Precious Johnson, Nylah Simon Aisha Hennemann, Excellency Hennemann, London Hennemann, Angelica Greene, Ismeralda Greene, Nyack Greene, Ajani Greene, Khalif Greene, Ghamal Greene and Amaura Greene; and great-great nieces and nephews: Leonard Diaz Jr., Lechanti Bastian, Phillip Manifold III, Devon Manifold, De Shaun Manifold and Alyssa Chanyasubkit; and aunts: Leola F. Carroll, *Olive Williams, *Esmeralda Williams Bushby, Kathleen Hennemann, Albertina Hennemann Chambers and *June Hennemann O' Reilly.
Other survivors include uncles: *Julien Williams Sr., Lauren Williams Sr., Melvin Williams Sr., Thomas Williams Sr. and *Harold Emanuel Sr.; aunts-in-laws: Esther and Muriel Williams, and Gloria Emanuel; great aunt, *Elisabeth David Rivera; and cousins: Inslee Carroll Sr., Mario Carroll, Theodore Thomas, Julien Williams, Mevilyn Williams, Kevin Williams, Michael Williams, Olive Williams Schneider, Lisa Williams Phillips, Lauren Williams Jr., Lee Williams, Lynda Williams, Melvin Williams Jr., Manuel Williams, Heleen Williams Townsend, Lurline Williams Armstrong, Thomas Williams Jr., Rodelique Williams Bradshaw, Kund Bushby, Merline Bushby Williams, Harriet Emanuel Boone, *Harold Emanuel Jr., *George Emanuel, *Vesilee V. Brown, Floris O'Reilly Williams, Valarie O'Reilly Abramson, Dinah O'Reilly Payne, Wilburn (Kent) O'Reilly, Cyd O'Reilly, Ellen Rivera Attaway, Cornelius Rivera and *La Vaughn Rivera.
Funeral services were held at Aycock Tradition Funeral Home, 12571 SW Tradition Pkwy, Port St. Lucie, Fla., on Saturday, March 17, with a viewing at 10 a.m. and service at 11 a.m.
The family expresses sincere appreciation and thanks to everyone that sent their condolences and prayers.