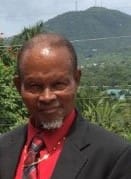 Cosmos M. Victor, also known as "Cosie, The Mighty Willow," of Estate Strawberry, Christiansted, died on Feb. 23 at Sentara Hospital in Virginia. He was 77 years old.
He was preceded in death by his father, Laudnell Victor; and mother, Catherine Victor.
He is survived by his wife, Martha Lorna Victor; sons: Elvis, Reuben and Gary Victor; daughters: B. Kathy Victor-Bazil and Allison Victor; granddaughters: Nia Victor and G. Bobbie "Gracie" Bazil; grandsons: Marco Felix Jr., Michael Alexander, Naph-Tali, Nah-Jari and Nah-Shaun Victor; great-grandson, Jayden Felix; brothers: Winston Victor, Gabriel and George Jones; sisters: Joan Jones and Lorna Mary Jacob; niece, Karen Lett-Hagley; nephews: Kennedy Lett and Joshua Horsford-Victor; and many other nieces and nephews too numerous to mention.
He is also survived by son-in-law, Bobby Bazil; daughters-in-law: Olana Leung-Victor and Tasmeia Victor; brothers-in-law: Cuthbert, Kenneth, Wilson and Desmond (Trini) Lett, McFord and Lennard Williams; sisters-in-law: Sharon B. and Sandra Williams, Myrtle Lett and Jean Lett; special friends: Wilson Lett, Anthony and Yvonne Monroe and family, Rev. Henry James and family, the Griffith family, Rev and Mrs. Louis Bustle and family, The Mighty Spade and VI Calypsonians, Pastor Anthony and Agnes DeVlught and family, and the Central Church of the Nazarene family.
The viewing will take place at 9 a.m. followed by the funeral at 10 a.m., Friday, March 23, at the Central Church of the Nazarene, Estate Mary's Fancy. Interment will be at Kingshill Cemetery.