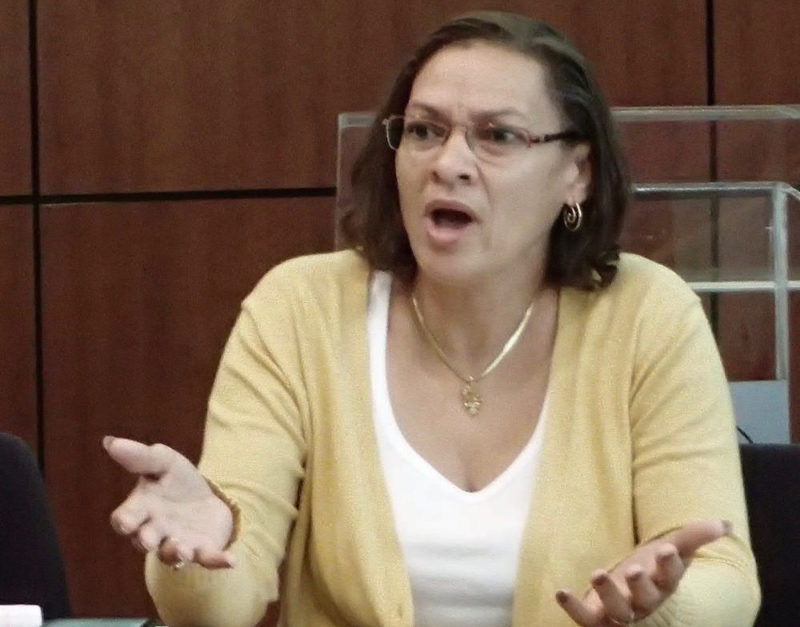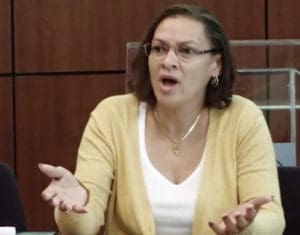 After two days of meetings with government representatives, local nonprofit organizations said they still do not know when they will receive payments for the last three quarters and some say they may be forced to close their doors if it is not forthcoming.
After meeting Monday with Human Services Commissioner Felecia Blyden, managers of 16 charities from St. Thomas and St. Croix told senators at a meeting hosted by Sen. Nereida Rivera-O'Reilly that they continue to provide necessary hurricane relief services, but are running out of funds to keep their doors open.
Those attending the meeting said they have not received government allotments since last summer and several referenced an email earlier this month announcing that the V.I. Office of Management and Budget will not provide funding for the last quarter of 2017 and 2018.
"Unfortunately, at this moment, Office of Management and Budget has informed our department that they are unable to provide legislative funding to your organization and will continue to monitor the revenue and respond accordingly," the email told the groups.
Toward the end of Tuesday's four-hour meeting, Blyden announced that $525,000 had been dispersed to seven nonprofits for the second quarter in 2018. Nothing was covered before that due to the lack of government revenue. She admitted she did not know why the seven were paid first or why OMB selected them. Several senators attempted to contact OMB during the meeting without success.
Responding to questions from senators, Blyden promised to find out the balance in the Crisis Intervention Fund, set up years ago to help youth and families after disasters. Rivera-O'Reilly said it should be used to pay the charities.
One of the long-time nonprofit managers, Clema Lewis, said the Women's Coalition of St. Croix has been providing for many more clients since the hurricane, many dealing with mental illness and homelessness. DHS owes $80,000 to the women's shelter for normal services for domestic violence victims, not to mention disaster relief.
"The government doesn't recognize how important nonprofits are. Our services are critical," she said.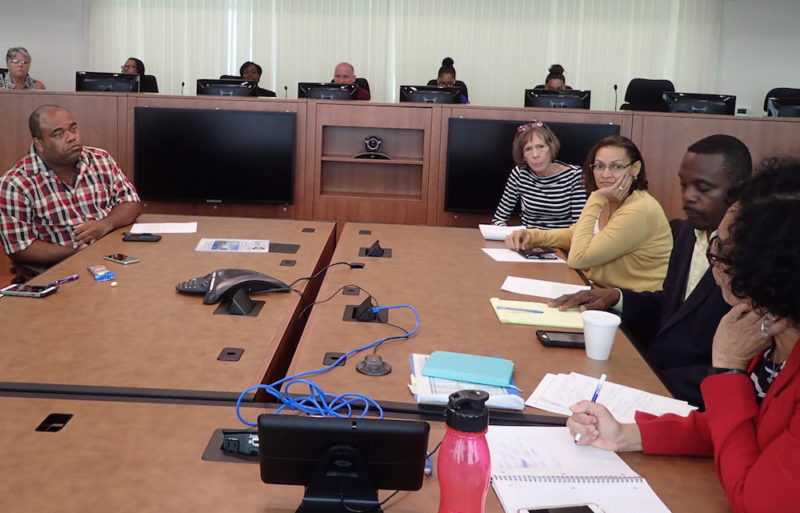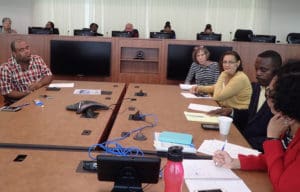 Lewis asked senators to move their funding stream out of the "Miscellaneous" category to create a better chance of receiving approved amounts. Rivera-O'Reilly said that would not guarantee payment since funding is calculated by OMB based on government revenue. She pointed out that the Legislature doesn't set or decrease budgets, just approves what the agencies and the governor request.
My Brothers' Workshop also has taken on more than its mission statement calls for – education and job placement – since the two category five hurricanes struck the territory in September. According to Executive Director Jenny Hawkes, the café has served 37,000 meals, given away 1,000 care packages and is helping people who have no other resources to repair their homes.
Andrea Shillingford of Catholic Charities re-opened the soup kitchens to feed the homeless on St. Thomas and St. Croix immediately after the storm with $300,000 borrowed from the Catholic Church and no V.I. government funds.
"With zero funding the last quarter of 2017 and half of 2018, we must panic," she said.
Lutheran Social Services of the Virgin Islands has $2.5 million in contracts with the V.I. government to provide residential services for the elderly, disabled and the children at Queen Louise Home for Children. They also provide a number of outreach and educational programs. Overall, DHS has "been really good at paying," Junia John-Straker, chief executive officer, said. However, LSSVI has reached its limit for fundraising – around $700,000 a year – but "the capacity is not there" for more.
"If our program is cut, it's a problem. There's no place to house these guys," Malik Stridiron, of Ten Thousand Helpers, said. "It's halfway through 2018 and we've received no funding whatsoever.
Stridiron's organization provides shelter for mentally ill men, some ordered into the facility by the V.I. Corrections Department. He worries about the upcoming hurricane season and his clients who may be forced into shelters, where they were "treated very poorly" during hurricane Maria. The Frederiksted home has not been repaired since the last storm.
Kendall Tutein, of the Village Partners in Recovery, said changes should be made in the application and procurement process for local grant funding. The current system is "very cumbersome" and DHS is unresponsive.
It is especially difficult when funding is cut in the fourth quarter because they are unable to apply for federal grants without knowing the amount of local funding, she explained. Others agreed with her.
"The government is supposed to provide the system and process to work by. The federal government has a process, why can't we follow that," Tutein asked.
Gail Shearer, director of the V.I. Volunteer Advocates for Children (formerly CASA), said the loss of two quarters of government funding may force her to close the doors to the legal advocacy organization. She has already cut staffing to one person – herself. She said the Virgin Islands would be a "sad" and "dangerous" place without nonprofit services.
Anastasia Doward of St. Patricks said she doesn't know how they will keep the after-school program open for 40 low-income families without paying teachers. Representatives from several childcare facilities said they can no longer take children under the DHS block grant program without paying teachers.
Therese Donarski of the St. Croix Animal Welfare Center, said despite their mandate by the V.I. Government to provide animal control, the shelter has not had a contract approved since August 2016 and no funding.
The seven nonprofit organizations Blyden identified that received government funding were Bethlehem House, the Center for Independent Living, Dial A Ride, the Long Term Care for Elderly (Seaview and a facility in Puerto Rico) and V.I. Partners in Recovery. According to Tutein, the Village has not received the check that Blyden said was processed during the last week of February.
After Tuesday's meeting, Rivera-O'Reilly sent a notice to attendees that Gov. Kenneth Mapp had been contacted and agreed to expedite payment to the agencies soon.
"We are happy to inform you that the governor, who was unaware of the severity of the matter, has directed OMB to prioritize payment to nonprofits. We anticipate that nonprofits will see some form of payment within the next two weeks," the release read.
Senators attending the meeting included: Rivera-O'Reilly, Sammuel Sanes, Novelle Francis, Kurt Vialet, Marvin Blyden, Jenelle Sarauw and Brian Smith. Commissioner Blyden joined in the afternoon through a conference call. Representatives from OMB and the Department of Property and Procurement were invited but no one from those departments attended.